Fatah holds event, erects monument for killer of 2 Israelis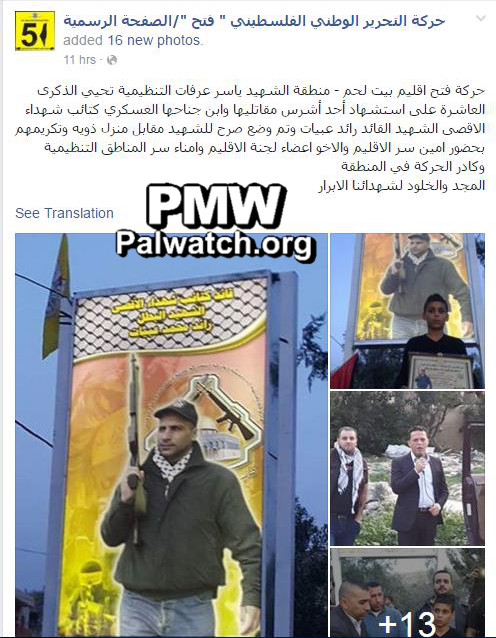 Text and photos posted on the official Fatah Facebook page
Posted text: "The Yasser Arafat sub-branch of the Fatah Movement's Bethlehem branch marked the 10th anniversary of the death as a Martyr (Shahid) of one of the movement's mightiest fighters and a member of its military branch the Al-Aqsa Martyrs' Brigades, Commander Raed Abayat. A monument was erected in his memory in front of the home of the Martyr's relatives, and a tribute to them was held in the presence of the branch's secretary, committee members, sub-branch secretaries, and the sub-branch's staff.
Glory and eternity to our righteous Martyrs"
Raed Abayat – Palestinian terrorist, a member of the Fatah Al-Aqsa Martyrs' Brigades terror organization, who murdered 15-year-old Israeli Avi Boaz on Jan. 15, 2002, shooting at him from his car east of Bethlehem, and Israeli police officer Moshe Dayan on March 2, 2002, who was ambushed by Abayat and fellow terrorists and shot while riding a motorcycle near Bethlehem. Abayat was shot to death on April 3, 2006, by Israeli soldiers trying to apprehend him, after he refused to surrender and shot at them.