PLO Commission of Prisoners' Affairs invites Palestinians to event launching campaign to give a convicted terrorist the Nobel Peace Prize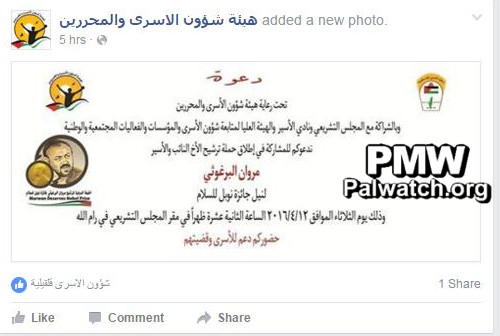 Invitation posted on the Commission of Prisoners and Released Prisoners' Affairs Facebook page on April 4, 2016
Text of invitation:
"Invitation
Under the auspices of the Commission of Prisoners and Released Prisoners' Affairs
And in partnership with the PA Parliament (Legislative Council), the Prisoners' Club, the Supreme Council for Monitoring Prisoners' Affairs, and national and social institutions and activists
we invite you to participate in the launch of a campaign to present the candidacy of the brother, parliament member, and prisoner
Marwan Barghouti (i.e., terrorist who orchestrated three shooting attacks in which 5 were murdered)
for the Nobel Peace Prize
On Tuesday, April 12, 2016, at 12:00 p.m. in the afternoon at the PA parliament headquarters in Ramallah
Your presence constitutes support for the prisoners and their cause"
Marwan Barghouti - serving 5 life sentences for orchestrating three shooting attacks that killed 5 people: one in Jerusalem (June 12, 2001, 1 killed), another in Givat Zeev near Jerusalem (Jan. 15, 2002, 1 killed), and one in Tel Aviv (March 5, 2002, 3 killed). When arrested in 2002, he headed the Tanzim (Fatah terror faction). After he was convicted and imprisoned, he was re-elected member of the Palestinian Authority parliament.