Chairman of the [Palestinian] Prisoners` Club: Palestinians should respect prisoners' ideals "for which these people took up weapons"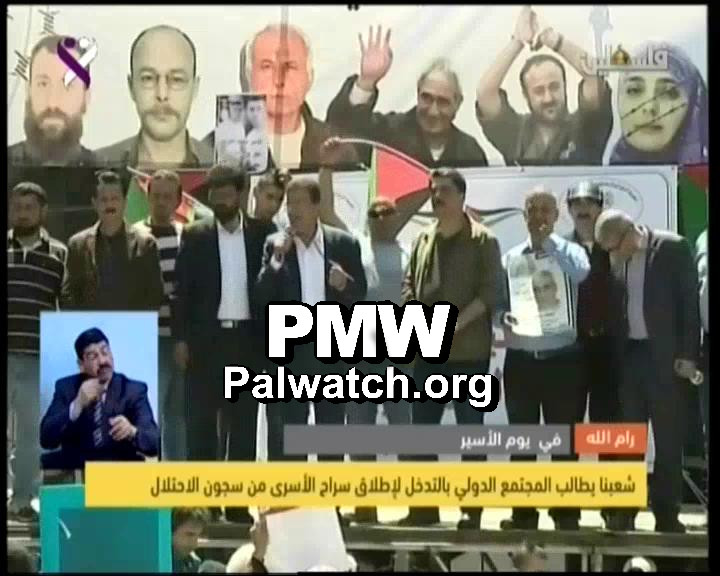 Official PA TV News reported on Palestinian Prisoner's Day
Chairman of the Prisoners' Club Qadura Fares:
"The message that the [Palestinian] prisoners are conveying today to the entire Palestinian people is that it is necessary to rehabilitate the respect for the values, principles, and ideals for which these people took up weapons and went out to meet the occupation."
Visual:
On the stage are pictures of imprisoned Palestinian terrorists Lina Al-Jarbouni, Marwan Barghouti, Ahmad Sa'adat, Karim Younes, and two other imprisoned terrorists.
Lina Al-Jarbouni
- An Israeli Arab woman serving a sentence of 17 years, convicted March 9, 2004 of maintaining contact with and helping Islamic Jihad terrorists, of conspiring to commit terrorist attacks and of aiding an enemy during war.
Additional information for PMW: She met with Thabet Mardawi, head of Islamic Jihad in Jenin who is serving 21 life sentences for murder of civilians. She provided Israeli ID cards for terrorists, rented an apartment for them in Israel, put bank accounts at their disposal, and conspired with terrorists to commit terrorist attacks and gave them information.

Marwan Barghouti – Palestinian terrorist who is serving 5 life sentences for orchestrating three shooting attacks that killed 5 people: one attack in Jerusalem (June 12, 2001) in which Greek monk Tsibouktsakis Germanus was murdered by terrorist Ismail Radaida and another unidentified terrorist, another attack at a gas station in Givat Zeev near Jerusalem (Jan. 15, 2002) in which Yoela Hen, 45, was murdered by terrorists led by Mohammed Matla, and one shooting and stabbing attack at the Sea Food Market restaurant in Tel Aviv (March 5, 2002) in which Eli Dahan, 53, Yosef Habi, 52, and Police Officer Sergeant-Major Salim Barakat, 33, were murdered by terrorist Ibrahim Hasouna. When arrested by Israel in 2002, Barghouti headed the Tanzim (Fatah terror faction). After he was convicted and imprisoned, he was re-elected member of the Palestinian Authority parliament.

Ahmad Sa'adat - serving a 30-year sentence for heading the PFLP terror organization. A song at a PFLP event also praised him for planning the assassination of Israeli Minister of Tourism Rehavam Ze'evi in 2001, but he has not been tried for this crime.

Karim Younes - an Israeli Arab serving a 40-year sentence for kidnapping and killing Israeli soldier Avraham Bromberg in 1980 together with his cousin Maher Younes. Originally sentenced to life in prison, but Israeli President Shimon Peres reduced his sentence in 2012.