Fatah Facebook calls both Fatah founder, responsible for Munich Olympics massacre, and Saddam Hussein "Martyrs"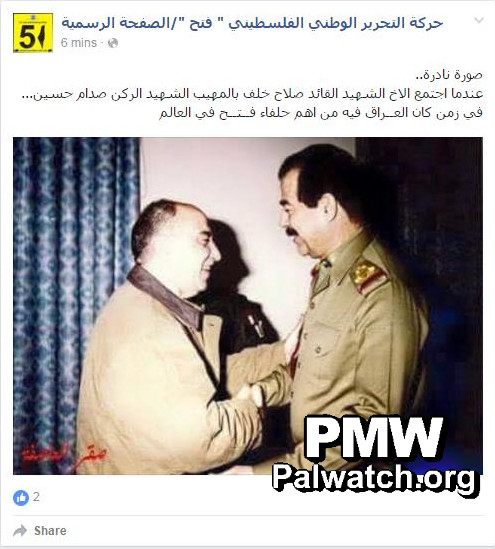 Text and photo posted on the official Fatah Facebook page
Posted text:
"A rare picture. When Martyr (
Shahid
) Commander Salah Khalaf met with the awe-inspiring Martyr [former Iraqi President] Saddam Hussein, during a period in which Iraq was among Fatah's most important allies in the world."
Salah Khalaf (Abu Iyad)
- One of the founders of Fatah and head of the terror organization Black September. Attacks he planned include the murder of 11 Israeli athletes at the Munich Olympics (Sept. 5, 1972) and the murder of two American diplomats in Sudan (March 1, 1973). It is commonly assumed that his assassin, a former Fatah bodyguard, was sent by the Abu Nidal Organization, a rival Palestinian faction.