Fatah Facebook praises "Martyr" murderer of Israeli baby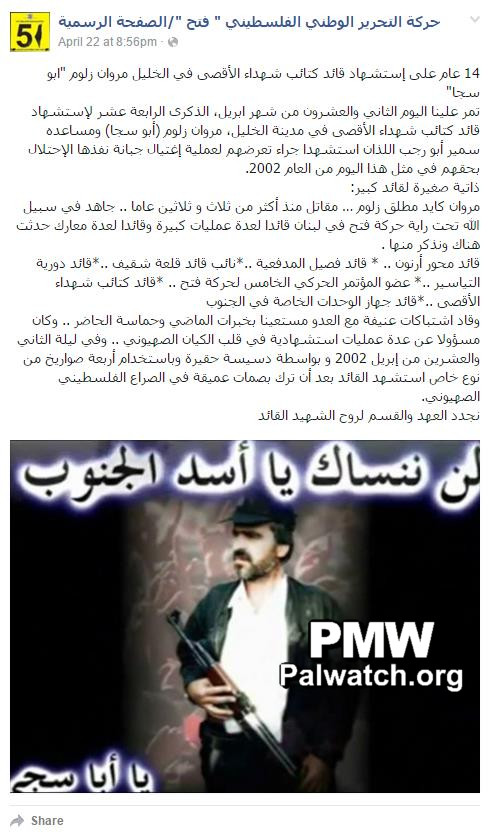 Text and image posted on the official Fatah Facebook page
Posted text:
"Today, April 22, is the 14th anniversary of the death as a Martyr (
Shahid
) of Al-Aqsa Martyrs' Brigades Commander in Hebron Marwan Zalum 'Abu Saja,' and his aide Samir Abu Rajab. The two died as Martyrs in a cowardly assassination operation that the occupation carried out against them on this date in 2002… Marwan Zalum … was responsible for several
Ishtish'had
(i.e., seeking or achieving
Shahada
, Martyrdom) operations (i.e., terror attacks) in the heart of the Zionist entity… We renew the promise and the oath to the soul of the Martyr commander."
Text on picture:
"We won't forget you, Lion of the South."
Marwan Zalum was the commander of the Hebron branch of the Tanzim (Fatah terror faction). He was responsible for several terror attacks in the Hebron region, including sending the terrorist who shot and killed infant Shalhevet Pass in her stroller on March 26, 2001. He also provided the explosive device used in a suicide attack at the entrance to Jerusalem's Mahane Yehuda open market on April 12, 2002, in which 6 were killed and 80 wounded. He organized the planting of a bomb in southern Hebron, which killed Israeli soldier Shai Cohen on July 9, 2001, and initiated a shooting attack at the entrance to Kiryat Arba on July 12, 2001, in which 1 person was killed. He was killed by the Israeli army on April 22, 2002.