Fatah: Netanyahu = Baby Killer
Itamar Marcus and Nan Jacques Zilberdik
|
Fatah: Netanyahu = Baby Killer
j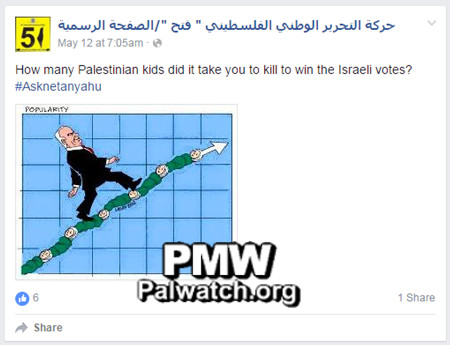 h
Itamar Marcus and Nan Jacques Zilberdik
A post on the official Fatah Facebook page presents Israeli Prime Minister Benjamin Netanyahu as a baby killer. The text posted by Fatah in English accompanying the above cartoon, asked the Israeli PM:
"How many Palestinian kids did it take you to kill to win the Israeli votes?
[Official Fatah Facebook page, May 12, 2016]
The cartoon shows a rising graph made of dead Palestinian babies as PM Netanyahu walks across, rising in popularity. "#Asknetanyahu" is referring a May 12, 2016 event on Twitter in which PM Netanyahu responded to questions tweeted to him using the "Asknetanyahu" hashtag.