PMW extensively cited in Huffington Post article about PA support for terror against Israelis
PMW extensively cited in Huffington Post article
about PA support for terror against Israelis

Headline
: Do Not Be Concerned By Israel's Rightward Political Shift
by Benjamin Gerstein


With the appointment of right-winged, nationalist Avigdor Liberman to Israel's Defense Minister, many in the international and even pro-Israel communities have voiced concerns about Israel's political shift to the right. They claim that a hawkish, military-bent Jewish State is harmful for the peace process and endangers Israel's existence as a peaceful and multi-ethnic democracy in the global community. However, while a more conservative and aggressive government might indicate signs of a widening gap between peace and its attainability, this rightward slide on the political scale is a result of the notion that security and strength, not peace, represent that most prominent need of the day. Here is why:

Firstly, the Palestinian Authority has practically endorsed terrorist activity. Since Rosh Hashanah 2015, Israel has been engulfed by stabbing attacks from Palestinian terrorists in the West Bank. In these attacks, 460 Israelis have been injured, and 34 murdered. Yet, while these acts of terror evoke more aggression and anger in the IDF and throughout the halls of the Knesset, the Palestinian Authority does not seem to care. Instead, they rationalize the terrorism as an appropriate response to Israel's presence in the West Bank. When a bomb exploded on a Jerusalem bus in April, injuring 20 civilians, the Palestinian Authority's ruling party, Fatah, made a Facebook press release that justified the terror, calling it "an appropriate response". (PMW Ed.: See also PMW report Fatah Praise for Bus Bombing in Jerusalem)

By giving terror rationale, the Palestinian government indirectly endorses the action of murdering and harming Israeli civilians. But, leaders in the government have also directly endorsed terror, including Jibril Rajoub, a member of the Fatah Central Committee, who, in a speech declared terrorists as "heroes" and having "crowns on their head". Unfortunately, these two incidents of support for violence towards Israelis are not anomalies. The Palestinian Authority, on a daily basis, continues to promote terror and the expression of anger with Israel in the form of attacks against civilians, regardless of age. This pro-terrorist agenda, and pattern of barbarity justifies Israel's shift to a more military and politically hawkish platform, as the conditions for peace are nonexistent and Israel's supposed "partner" is solely focused on racking up Israeli death tolls.

Subsequently, while supporting the terrorists of today, the Palestinian Authority works to brew the terrorists of tomorrow. In West Bank universities, high schools, middle schools, and even elementary and preschools, the glorification of Palestinian terror occurs. At Hebron University in the West Bank, the University sponsored an event to commemorate terrorist Baha Alyan's shooting attack on a Jerusalem bus. In the Palestinian Territories, the organization Palestinian Media Watch compiled a list of 20 local schools that are named after terrorists, including Dalal Mughrabi, the actor behind the worst terror attack in Israeli history. When Palestinian children and teens attend school, they are reminded daily of violent "martyrs", and instructed to admire them for their sacrifice. But the terror-abundant learning does not end at the school's entrance. In lesson plans, videos, and textbooks, the Palestinian agenda of hate is continuously promoted. Elementary schools use cartoons to promote Jihad against Jews.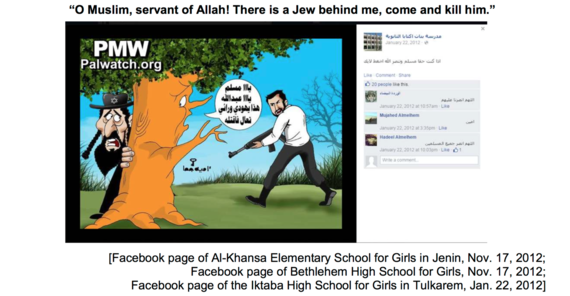 Lastly, in school textbooks, Israel and the Jews are demonized and pictured as agents of Satan. They are compared to Hitler, titled the "robbing Jews", and called the enemy repeatedly. Due to the persistence of extremist teachings in Palestinian education, future generations of Palestinians are going to be infected with the hostile agenda of their government. Thus, it appears as if Israel will not have a negotiating partner in the future, and this stabbing intifada will be a movement passed down for generations, forcing Israel to become more secure and militaristically powerful to prevent terror from plaguing her people. The pattern of continued violence is already in motion.

While the Palestinians have embraced third party peace talks, they still remain stubborn in their opposition to recognizing Israel as a Jewish state and becoming demilitarized upon their acquisition of statehood. Additionally, the PA claims their goal is to quell terror, yet the evidence above proves the antithesis of the Palestinian Authority's statements. Frankly put, the conditions for peace are not there, as an inflexible and terror-inciting Palestinian government is not an ideal partner in negotiation.

Thus, those who are concerned about Israel's shift rightward, I urge you to place yourself in the shoes of Israel's government. Understand that good peace is not presently attainable, and that the cycle of violence is set to persist. And if you are worried about the Israel's reputation in the world because of a hawkish government, it is time to concern yourself with Israel's safety and security, and not the opinions of some far-left, factually ignorant activists. The appointment of Liberman, and a Likud/Yisrael Beiteinu controlled government, ultimately ensures Israel's position as unbending in the face of danger and a nation that is here to stay.


[http://www.huffingtonpost.com/benjamin-gerstein/do-not-be-concerned-by-is_b_10246956.html]