Football match named after terrorist who attempted to stab Israeli policeman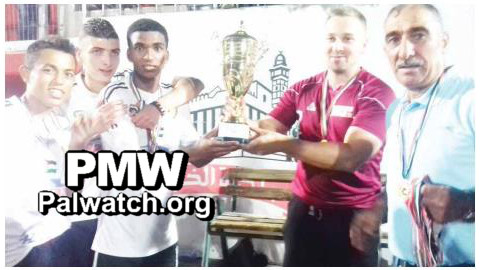 Headline: "The Al-Amid [Club] (i.e., Shabab Al-Khalil) beat the Al-Ghazalan [Club] (i.e., Al-Dhahiriya) 5-0 in the Martyr [Basel] Sidr Cup"
"The Al-Hussein Stadium in Hebron hosted the Shabab Al-Khalil Ultras' (i.e., fanatical fan group) Martyr Basel Sidr Cup on Sunday evening [June 5, 2016]. The youth teams Shabab Al-Khalil and Al-Dhahiriya participated in the game, exhibiting a promising show of football that ended in a 5-0 victory for Shabab Al-Khalil."
Basel Sidr
– A 19-year-old Palestinian terrorist who tried to stab Israeli border policemen near Damascus Gate in the Old City of Jerusalem on Oct. 14, 2015. Sidr was shot and killed by the police when he tried to escape.