PA District Governor of Ramallah and Fatah official honor released terrorist who killed Israeli teenager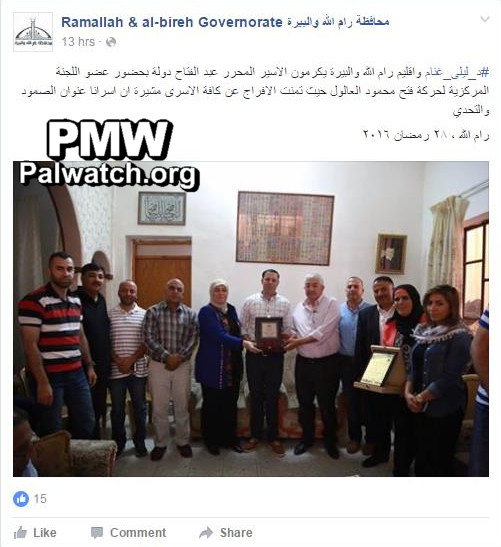 Picture and text posted on the official Facebook page of Ramallah & Al-Bireh Governorate
Posted text: "[District Governor of Ramallah and El-Bireh] Dr. Laila Ghannam and the Ramallah and El-Bireh branch [of Fatah] honor released prisoner Abd Al-Fattah Doleh in the presence of Fatah Central Committee member Mahmoud Al-Aloul.
Ghannam [said she] looked forward to the release of all the prisoners, and noted that our prisoners are a symbol of the resolve and present a challenge [to the occupation]."
Abd Al-Fattah Doleh – Member of the Tanzim (Fatah terror faction). He served a 12-year sentence for his participation in the kidnapping and murder of 16-year-old Ofir Rahum on Jan. 17, 2001, and was released on June 30, 2016. Amna Muna met Rahum in an Internet chat room and engaged him in an online romance that culminated in his agreeing to meet her. She drove him to Ramallah, where they were met by Doleh and another accomplice, Hassan Alkadi, who shot Rahum to death.