Fatah official consoles family of suicide bomber on death of bomber's father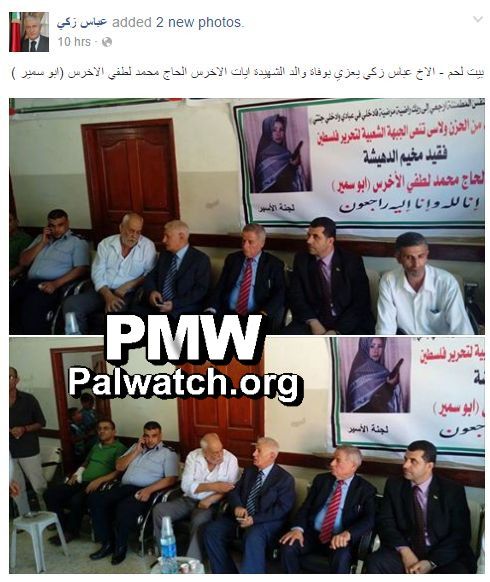 Text and photos posted on the Facebook page of Fatah Central Committee member Abbas Zaki
Posted text:
"Bethlehem – [Fatah Central Committee member] brother Abbas Zaki expresses condolences over the death of the father of Martyr (
Shahida
) Ayyat Al-Akhras (i.e., suicide bomber, murdered 2, wounded 28), Haj Muhammad Lutfi Al-Akhras (Abu Samir)"
Text on poster in photos:
"With sorrow and pain the Popular Front for the Liberation of Palestine (PFLP) announces the death of the deceased from the Deheisheh refugee camp
Haj Muhammad Lutfi Al-Akhras (Abu Samir)"
The poster of the death announcement inludes a picture of suicide bomber Ayyat Al-Akhras, instead of a picture of the deceased, Akhras' father.
The top picture shows Fatah Central Committee member Abbas Zaki sitting third from the left.
Ayyat Al-Akhras - The youngest female Palestinian suicide bomber (aged 17). A member of Fatah, Al-Akhras blew herself up near a Jerusalem supermarket on March 29, 2002, killing 2 and wounding 28. Israel transferred the terrorist's body to the PA on Feb. 2, 2014.