Fatah Facebook honors terrorist who killed 15: "We will continue to be proud of you"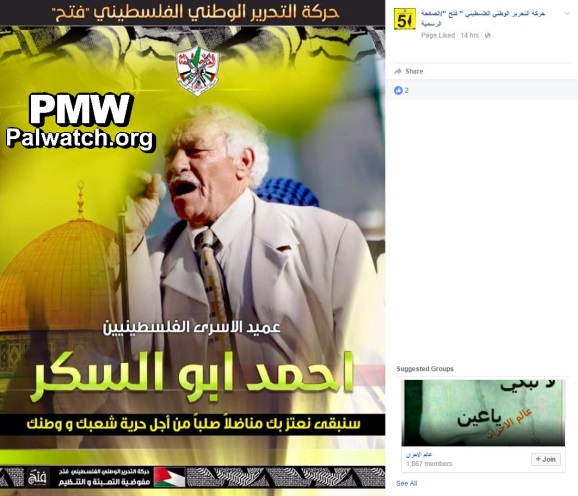 Poster posted on the official Fatah Facebook page
The poster includes a picture of Ahmad Jabarah Abu Sukkar, a Palestinian terrorist who murdered 15 people in 1975 in Jerusalem with a bomb hidden in a refrigerator.
Text on poster:
 "The Palestinian National Liberation Movement 'Fatah'
Most veteran of the Palestinian prisoners
Ahmad Abu Sukkar
We will continue to be proud of you as a tough fighter for the freedom of your people and homeland"
Ahmad Jabarah Abu Sukkar - planned a bombing attack in 1975 in which a refrigerator filled with explosives was detonated in Jerusalem. 15 people were killed and over 60 people were wounded. He was sentenced to life in prison plus 30 years, but was released from prison after 28 years as part of a goodwill gesture from Israel to the PA in 2003. He was a member of the Fatah Revolutionary Council and an advisor to Arafat on prisoners' affairs. He died of a heart attack in 2013 in the PA.