PLO and PA officials participate dedication of monument for "heroic" terrorist who killed 15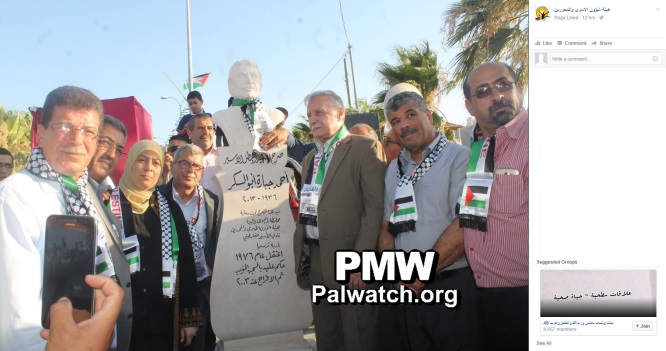 Text and photo posted on the official Facebook page of the PLO Commission of Prisoners' Affairs
The photo shows the monument erected to Palestinian terrorist Ahmad Jabarah Abu Sukkar in the town of Turmus Ayya on July 17, 2016. In the picture Governor of Ramallah and El-Bireh District Laila Ghannam is to the left of the monument, wearing a yellow head covering, Director of PLO Commission of Prisoners' Affairs Issa Karake is between Ghannam and the monument, Chairman of the Palestinian Prisoners' Club Qadura Fares is furthest to the left, Chairman of the PA Committee Against the Wall and Settlements Walid Assaf is second from the right, and Deputy Secretary-General of the Democratic Front for the Liberation of Palestine (DFLP) and PA Parliament Member Qais Abd Al-Karim is directly to the right of the monument.
Text on monument:
"Monument of the heroic Martyr
Prisoner Ahmad Jabarah Abu Sukkar
1936-2013
This monument was erected under the auspices of:
Ramallah and El-Bireh District
The Commission of Prisoners' Affairs
The Palestinian Prisoners' Club
The Turmus Ayya municipality
Arrested in 1976
Sentenced to life
Released in 2003"
Ahmad Jabarah Abu Sukkar ("Abu Sukkar") - planned a bombing attack in 1975 in which a refrigerator filled with explosives was detonated in Jerusalem. 15 people were killed and over 60 people were wounded. He was sentenced to life in prison plus 30 years, but was released from prison after 28 years as part of a goodwill gesture from Israel to the PA in 2003. He was a member of the Fatah Revolutionary Council and an advisor to Arafat on prisoners' affairs. He died of a heart attack in 2013 in the PA.