Another PA monument dedicated to "heroic" murderer
Another PA monument dedicated to "heroic" murderer
PA leaders honor killer of 15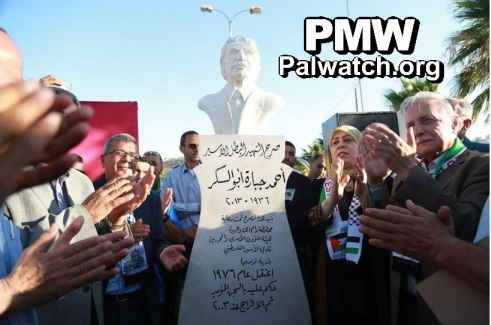 PA leaders applaud at the unveiling of "Monument for the heroic Martyr
Prisoner Ahmad Jabarah Abu Sukkar" - terrorist killer of 15
The Palestinian Authority went through with its plans yesterday to establish a monument honoring the terrorist Ahmad Jabarah Abu Sukkar, who planned the detonation of a bomb-laden refrigerator in the center of Jerusalem, murdering 15 people in 1976. A few days ago, Israeli Prime Minister Netanyahu
publicly asked
Mahmoud Abbas to cancel the event because of the negative impact terror glorification has on children:
Netanyahu: "Rather than dedicate a statue to a mass-murderer, I ask that you consider honoring a champion of co-existence. This will help educate future generations to love peace over war, compassion over violence."

[Israeli Prime Minister's YouTube channel, July 15, 2016]
Text on the monument:
"Monument for the heroic Martyr
Prisoner Ahmad Jabarah Abu Sukkar
1936-2013
This monument was erected under the auspices of:
Ramallah and El-Bireh District
The Commission of Prisoners' Affairs
The Palestinian Prisoners' Club
The Turmus Ayya municipality
Arrested in 1976
Sentenced to life
Released in 2003"
[Official Facebook page of Ramallah and Al-Bireh Governorate, July 18, 2016]
Palestinian officials participating in this event and seen in the picture include, among others:
- Director of the PLO Commission of Prisoners' Affairs Issa Karake (left of the monument)
- Governor of Ramallah and El-Bireh, Laila Ghannam (right of the monument)
- PA Parliament Member Qais Abd Al-Karim (right of Ghannam)
The following are some of the statements by Palestinian officials at the event honoring the terrorist:
"[Governor of Ramallah and El-Bireh] Dr. [Laila] Ghannam said that the death of Ahmad Jabarah 'Abu Sukkar' was a loss for everyone who protects human rights and every freedom fighter. She noted that the deceased fighter left behind a legendary history...
[Chairman of the Palestinian Prisoners' Club Qadura] Fares added in his speech: 'This man was not a regular man, but rather an epic of a struggle that will be written by the history of the Palestinian victory in large letters due to the greatness of our resolute prisoners...
[Director of the PLO Commission of Prisoners' Affairs] Issa Karake emphasized in his speech that this monument is intended to implant in the minds of our sons and daughters that we are continuing to be loyal to the path of the Martyrs... Karake added: 'Ahmad Abu Sukkar is a real man, a fighter, and a man who left his impression on everyone and who was a school for giving, resolve, and courage. We are proud of him as one of the symbols of the Palestinian national struggle..."
[Official PA daily Al-Hayat Al-Jadida, July 18, 2016]
Ahmad Jabarah Abu Sukkar ("Abu Sukkar") - planned a bombing attack in 1975 in which a refrigerator filled with explosives was detonated in Jerusalem. 15 people were killed and over 60 people were wounded. He was sentenced to life in prison plus 30 years, but was released from prison after 28 years as part of a goodwill gesture from Israel to the PA in 2003. He was a member of the Fatah Revolutionary Council and an advisor to Arafat on prisoners' affairs. He died of a heart attack in 2013 in the PA.