Fatah Facebook calls terrorist who murdered Israeli civilian a "Martyr"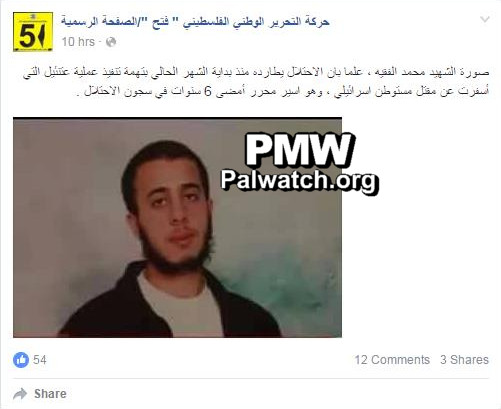 Picture and text posted on the official Fatah Facebook page
The picture shows terrorist Muhammad Al-Faqih, who murdered an Israeli and later was killed after shooting at Israeli security forces
Posted text:
"A picture of Martyr (
Shahid
) Muhammad Al-Faqih. It should be noted that the occupation pursued after him from the beginning of the current month [July 2016] on charges of conducting the Otniel operation (i.e., terror attack) that brought about the death of an Israeli settler, and he [Al-Faqih] is a released prisoner who served 6 years in the occupation's prisons."
Muhammad Al-Faqih
, 29-year-old Hamas terrorist who had previously been imprisoned for planning terror attacks when affiliated with the Islamic Jihad, and Muhammad Amira, terrorist and a member of the PA police force, murdered Rabbi Michael Mark, a 48-year-old father of ten, in a shooting attack on July 1, 2016 on Route 60 in the southern Har Hebron region. Al-Faqih opened fire on the Mark family's car causing the vehicle to overturn and crash. Amira was driving the car from which Al-Faqih shot at them. Rabbi Mark's wife Chava, 40, was also seriously wounded in the attack, and two of their children were injured – their daughter Tehila, 15, and their son Pedayah, 16. Al-Faqih and Amira fled the scene, but were located by the Israeli army on July 27, 2016. Al-Faqih resisted arrest and shot at the soldiers from his home where he had barricaded himself. Al-Faqih was killed when the Israeli soldiers shot an anti-tank missile and other artillery at his house. Amira was arrested.