Terror attack in Tel Aviv that killed 4 is called "the Tel Aviv operation" by Fatah Facebook page
Text and photos posted on the official Fatah Facebook page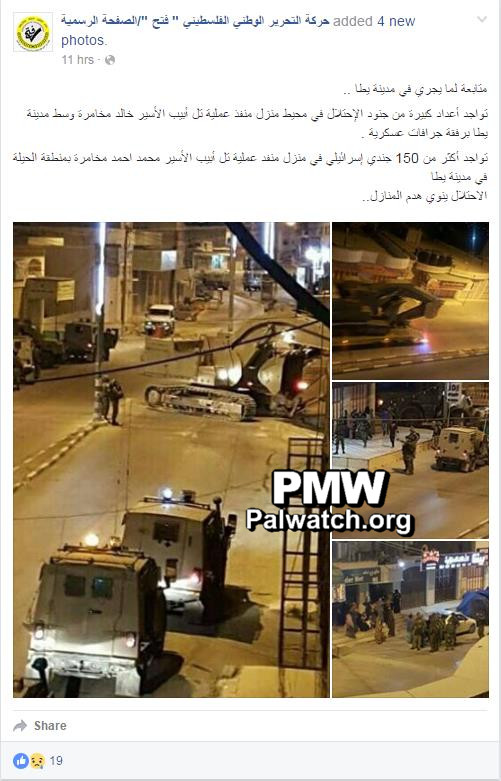 The photos show Israeli army forces preparing to demolish the home of terrorist Khaled Makhamreh in Yatta, south of Hebron.
Posted text:
"Tracking what is occurring in the city of Yatta
A large number of occupation soldiers are around the home of the one who carried out the Tel Aviv operation (i.e., terrorist attack, 4 murdered), prisoner Khaled Makhamreh, inside the city of Yatta, accompanied by military bulldozers."
Muhammad Ahmad Musa Makhamreh and Khaled Muhammad Musa Makhamreh
- 21-year-old Palestinian terrorists and also cousins, who carried out a shooting attack in Tel Aviv on June 8, 2016, murdering 4 Israelis and injuring 16. The terrorists ordered desert in the Max Brenner restaurant in the Sarona Market, before they began shooting at people. Muhammad Makhamreh and Khaled Makhamreh were both apprehended by the Israeli police, one of them shot and wounded before being caught and brought for treatment in an Israeli hospital.