PA cartoon: Israeli soldier eats ancient archaeological site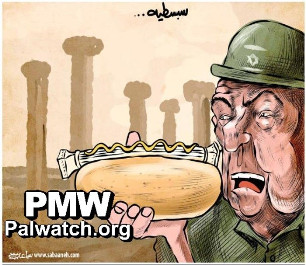 Text at top of cartoon:
"Sebastia…"
The cartoon shows an Israeli soldier eating a Roman column from the antiquities of Sebastia, as if it were a hot dog. Sebastia was the capital of the northern kingdom of Israel in the 9th and 8th centuries BCE and today is under the jurisdiction of the Israeli Nature and Parks Authority. The cartoon refers to the PA claims that Israel is trying to take over the archeological site of Sebastia – which is located in Area C, under full Israeli security and administrative control.