Fatah FB post honors terrorist who shot down 3 civilians and 7 Israeli soldiers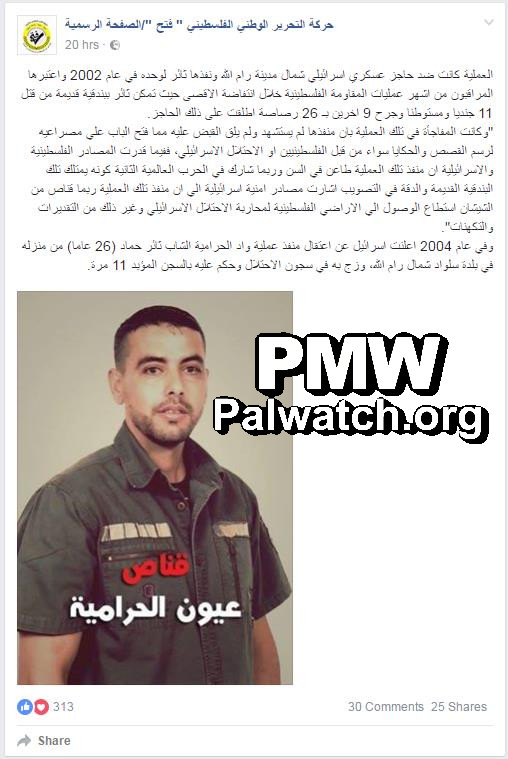 Image and text posted on the official Fatah Facebook page. The image shows terrorist Thaer Hammad, who murdered 10 Israelis on March 3, 2002.
Text on image:
"Wadi Al-Haramiya sniper" (Wadi Al-Haramiya is where the terror attack occurred –Ed.)
Posted text:
"The operation (i.e., terror attack, 10 murdered) was against an Israeli military checkpoint north of Ramallah. Thaer [Hammad] carried it out alone in 2002, and the analysts consider it one of the most famous Palestinian resistance operations of the Al-Aqsa Intifada (i.e., PA terror campaign 2000-2005), since Thaer, using an old rifle, succeeded in killing 11 soldiers and settlers (sic., 10 murdered: 7 soldiers and 3 civilians) and wounding 9 others (sic., 6 injured ) with 26 bullets that he fired at this checkpoint.
The surprise in this operation was that the one who carried it out did not die as a Martyr (
Shahid
) and was not caught, which opened the door wide to telling stories [about him], whether by the Palestinians or the Israeli occupation. While the Palestinian and Israeli sources estimated that the one who carried out this operation was old, and perhaps even took part in World War II, due to the precision in aim and the fact that he was in possession of this old rifle, Israeli security sources noted that it was possible that the one who carried out this operation was a sniper from Chechnya who succeeded in reaching the Palestinian territories in order to fight the Israeli occupation, along with other hypotheses and speculations.
In 2004, Israel announced the arrest of the one who carried out the Wadi Al-Haramiya operation, the young Thaer Hammad, 26, from his home in the village of Silwad north of Ramallah, and he was thrown into the occupation's jails and sentenced to 11 life sentences."
Thaer Hammad – Palestinian terrorist serving 11 life sentences for murdering 3 Israeli civilians and 7 soldiers by shooting them with a sniper rifle from a hilltop in Wadi Al-Haramiya between Ramallah and Nablus on March 3, 2002.