Fatah FB post glorifies "self-sacrificing fighters" who murdered 10 adults and 8 children
Image and text posted on the official Fatah Facebook page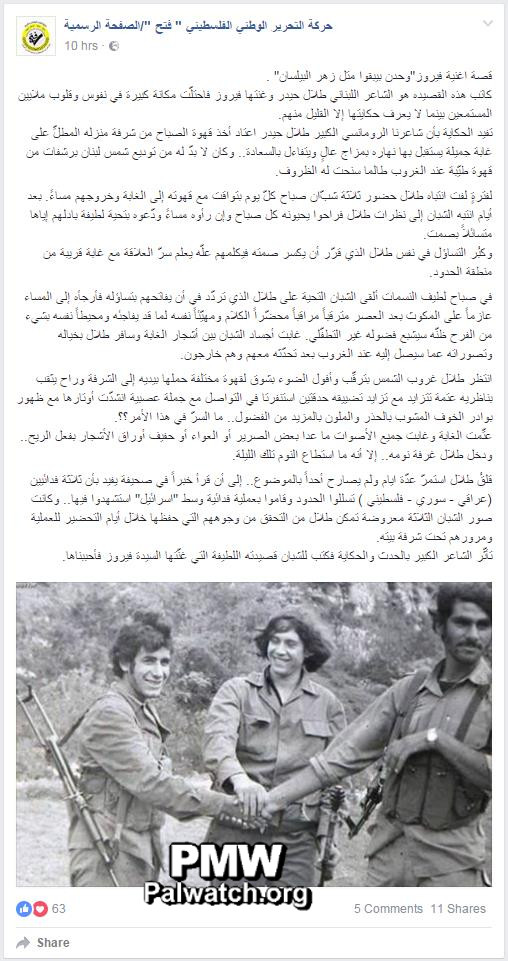 The image shows the three terrorists – Palestinian Munir Al-Mughrabi "Abu Khaled," Syrian Ahmed Mahmoud, and Iraqi Yassin Al-Houzani "Abu Hadi" – who carried out the Kiryat Shmona Massacre on April 11, 1974, in which 18 Israelis, 8 of them children, were murdered.
Posted text:
"The story behind Fairuz's song 'Alone They Remain, Like the Elderberry Flowers.'
This song was written by the Lebanese poet Talal Haidar and sung by Fairuz, and it held a meaningful place in the souls and hearts of millions of listeners, although only a few of them know its story.
According to the story, the great romantic poet Talal Haidar would drink his morning coffee on the porch of his home overlooking a beautiful forest…
For a while, Talal noticed that three young men went into the forest every morning at the time when he drank his coffee, and came out in the evening. After several days, the young men noticed Talal's gaze and greeted him every morning, and if they saw him in the evening, they greeted him politely, and he replied to them even while wondering [what they were doing] in silence…
On a morning when light winds [blew] the young men greeted Talal, who hesitated whether to reveal his questions to them, but he postponed it to the evening…
Talal waited for the sunset with anticipation while carrying several [cups of] coffee to the porch. He began piercing the growing darkness with his eyes…
The forest darkened and all of the sounds disappeared, except for some chirps, howls, or the rustling of leaves due to the wind. Talal went into his bedroom, but he was not able to fall asleep that night.
Talal's concern continued for several days, and he did not speak openly about the topic with anyone, until he read a newspaper article according to which three self-sacrificing fighters (
Fedayeen
) – an Iraqi, a Syrian, and a Palestinian – crossed the border, carried out a self-sacrifice (
Fida'i
) operation (i.e., terror attack, 18 murdered) inside Israel, and died in it as Martyrs (
Shahids
). Pictures of the three young men were shown, and Talal succeeded in recognizing their faces that were engraved in his memory during the days when they prepared for the operation and passed under the porch of his home.
The great poet was influenced by the incident and story, and wrote his pleasant song for the young men, which Fairuz sang and which we loved."
Kiryat Shmona Massacre – Three terrorists from the Palestinian Front for the Liberation of Palestine - General Command (PFLP - GC) - Palestinian Munir Al-Mughrabi "Abu Khaled," Syrian Ahmed Mahmoud, and Iraqi Yassin Al-Houzani "Abu Hadi" - infiltrated Israel and entered a building in Kiryat Shmona, where they murdered 18 Israelis – 16 civilians, 8 of them children, and 2 soldiers - and wounded 16 on April 11, 1974. They blew themselves up when Israeli soldiers entered the building.