Fatah glorifies "Martyr" killed in a "heroic car ramming operation"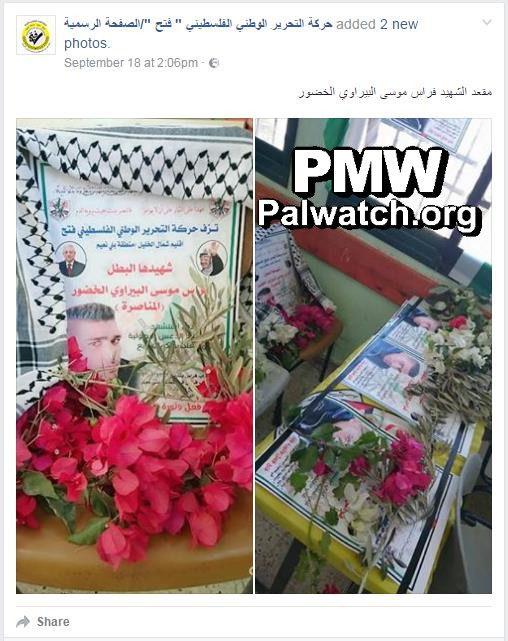 Images and text posted on the official Fatah Facebook page
Posted text:
"The chair of Martyr (
Shahid
) Firas Musa Al-Birawi Al-Khaddour"
The images show Fatah mourning notices for terrorist Firas Al-Khaddour, who wounded 3 in a car ramming attack, placed on chairs and a table together with flowers.
Text on the Fatah notice:
"The Bani Na'im sub-branch of the North Hebron branch of the Fatah Movement accompanies to [his] wedding (i.e., Martyr's funeral is considered wedding to the 72 Virgins in Paradise in Islam) its heroic Martyr Firas Musa Al-Birawi Al-Khaddour, who died as a Martyr in a heroic car ramming operation in the Kiryat Arba settlement."
Firas and Raghad Al-Khaddour – Palestinian terrorists, an engaged couple, who carried out a car ramming attack against 3 Israeli youth, injuring them, at the entrance to Kiryat Arba on Sept. 16, 2016. Firas was shot and killed by Israeli soldiers and Raghad was injured and transferred to an Israeli hospital. Raghad left a will stating her reason for participating in the attack was that her sister, Majd Al-Khaddour, was killed at the same junction on June 24, 2016, when she carried out a car ramming attack.