Governor of Ramallah praises terrorist's mother: "You carried him in your womb as a fetus so as to be separated from him... as a Martyr"
Image and text posted on the Facebook page of District Governor of Ramallah and El-Bireh Laila Ghannam
Posted text:
"#How_great_you_are_mother
#Dr_Laila_Ghannam"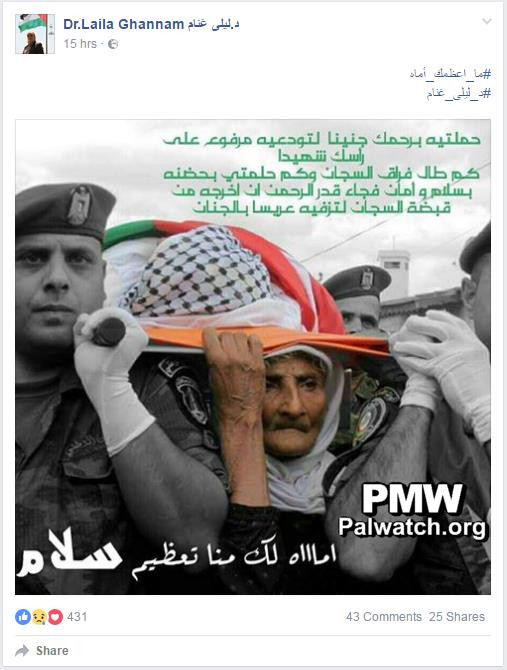 The image shows the mother of terrorist Yasser Hamdouni accompanying PA Security Forces in carrying her son's body in a funeral parade with the body seen wrapped in a keffiyeh and the Palestinian flag.
Text on image:
"You carried him (i.e., terrorist Yasser Hamdouni) in your womb as a fetus so as to be separated from him as he is raised over your head as a Martyr (Shahid).
How long the separation was [due to] the jailer, and how you dreamed of embracing him in peace and security, and God's decree arrived, and he left the grip of the jailer so that you will accompany him as a groom to Paradise (i.e., Martyr's funeral is considered wedding to the 72 Virgins in Paradise in Islam)."

Yasser Dhiab Hamdouni was serving a life sentence for participating in the murder of Israeli citizen Avner Maimon in the Palestinian town of Ya'abad in the West Bank (June, 12, 2003). Hamdouni, a member of the Al-Aqsa Martyrs' Brigades (Fatah's military wing), died on Sept. 25, 2016, after collapsing while exercising in the Israeli Rimon Prison yard.