Suicide bomber featured on Fatah poster congratulating "heroic prisoner" on his impending release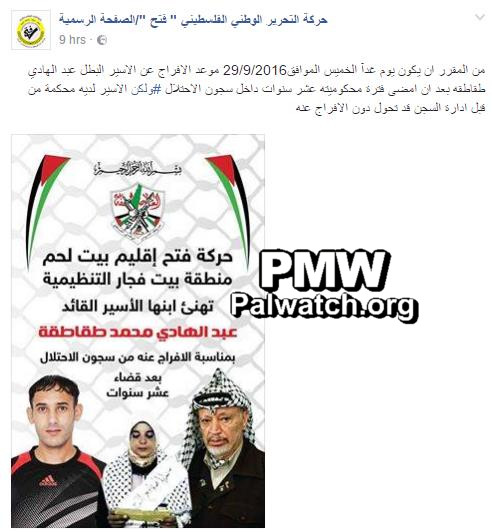 Image and text posted on the official Fatah Facebook page
The poster shows Yasser Arafat on the right, prisoner Abd Al-Hadi Takatka on the left, and suicide bomber Andalib Takatka – who apparently was a relative of Abd Al-Hadi Takatka - in the center.
Posted text:
"Heroic prisoner Abd Al-Hadi Takatka is expected to be released tomorrow, Thursday, Sept. 29, 2016, after serving the term of imprisonment that he was sentenced to – ten years in the occupation's prisons. However, the prisoner is expected to have a trial before the prison's management (i.e., for misconduct in prison), which is likely to prevent his release."
Text on poster:
"Bethlehem branch of the Fatah Movement,
Beit Fajjar organizational region,
congratulates its son, prisoner leader
Abd Al-Hadi Muhammad Takatka,
on his release from the occupation's prisons after serving ten years"
Andalib Khalil Muhammad Suleiman
or Andalib Takatka – Female suicide bomber from Fatah who blew herself up on Jaffa Road in Jerusalem on April 12, 2002, killing 6 and wounding more than 80.