PA National Security Forces posts on Facebook a cartoon depicting an Israeli soldier 'boxing' the Al-Aqsa Mosque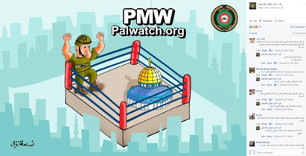 Cartoon posted on the Facebook page of the PA National Security Forces

The cartoon shows an Israeli soldier with "Israel" written on his shirt and a Star of David on his helmet squaring off against the Dome of the Rock Mosque in a boxing ring, indicating the often repeated Palestinian claim that Israel is "attacking" the Al-Aqsa Mosque and the Dome of the Rock Mosque. The PA National Security Forces logo appears in the corner.

The PA and its leaders view any presence of Jews on the Temple Mount as an "attack." It should be noted that Jews who visit the Temple Mount only enter some sections of the open areas, and do not enter the Al-Aqsa Mosque or the Dome of the Rock.