Monument to "Heroic Martyrs" at Al-Quds University warns Palestinian students: "Beware of a natural death, and die only in a salvo of bullets"
Headline: "Al-Sinawi to Wattan: We do not know about the removal of the Martyrs' monument"
"Al-Quds University Dean of Student Affairs Abd Al-Raouf Abd Al-Sinawi denied to Wattan that the university knew about the removal of the monument with the names of Martyrs (
Shahids
) from the university, and emphasized that the university will hold an investigation into the matter. The [Progressive] Student Action Front (i.e., student group of the terror organization Popular Front for the Liberation of Palestine) at Al-Quds University inaugurated a monument to the Martyrs of the university at its campus in Abu Dis two weeks ago for the first anniversary of the death as a Martyr of Muhannad Halabi (i.e., terrorist, murdered 2), and the students yesterday [Oct. 18, 2016] were surprised by the disappearance of the monument, which had been placed next to the faculty of engineering.
The monument bore the names of the Martyrs of the university who died recently, and at their head was the female Martyr Hind Sharathah (activist who died of tear gas inhalation during clashes with Israeli soldiers -Ed.) who died as a Martyr during clashes near the university, Martyr Diya Al-Talahmeh (terrorist who blew himself up when throwing a grenade –Ed.) who died as a Martyr last year [2015], and Martyr Muhannad Halabi (murdered 2 –Ed.).
Al-Sinawi emphasized to Wattan that the university received official complaints from the Student Action Front regarding the removal of the monument, and that the university will investigate the matter.
Al-Sinawi told Wattan that the university administration did not know that this memorial stone had been placed, and learned of it [only] after it was removed. He noted that the connection between the university and the student organizations needs to be based on coordination, and the student organizations need to submit a request for every activity or event to the office of the dean of student affairs in order to update it.
Al-Sinawi emphasized that 'the university did not forbid its (i.e., the monument's) placement, and [only] learned about the existence of the small memorial stone, and not a monument as was said, after its removal for unknown reasons. It is possible that this is a case of external reasons, that it was lost, or that one of the students put it somewhere else.'
He added: 'We in the [university] administration do not think that this memorial stone was targeted deliberately, and we have conducted the investigative proceedings regarding what happened, [but] until now we have no specific information. What I can say is that we as a university and as a student body have no intention to damage this memorial stone.'
Regarding what was said about threats from the office of the dean of student affairs against the Progressive Student Action Front, which was responsible for placing the monument, Al-Sinawi said: 'This is incorrect and baseless. We as an official source, that is, the office of the dean of student affairs, emphasize that this absolutely did not happen. Our meetings with the representatives of the [student] organizations, and particularly the Action Front, and the various student organizations, are friendly, and we emphasize that we did not know about this memorial stone.' […]
In response to the question as to whether the university opposed a monument of this sort, Al-Sinawi said: 'Why would we oppose [it]?,' and he added: 'According to the general framework of university activity, the student groups must submit a request according to defined steps to the office of the dean of student affairs about their intention to organize an activity or any extracurricular event. Otherwise, each student will place any sort of monument for any sort of entity, and this is improper, since matters need to be carried out through coordination and a request to the office of the dean of student affairs.'"
Click to view bulletin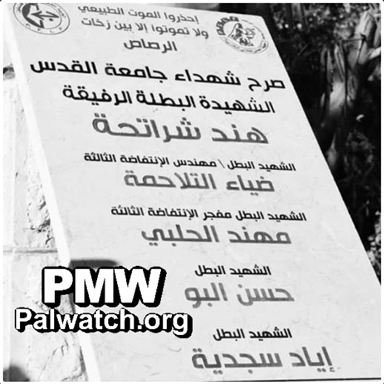 The article includes a picture of the monument, on which is written

: "Beware of a natural death, and die only in a salvo of bullets

Monument to the Martyrs of Al-Quds University

Heroic female Martyr and F riend

Hind Sharathah

Heroic Martyr / Engineer of the third Intifada

Diya Al-Talahmeh

Heroic Martyr and Detonator of the third Intifada

Muhannad Halabi

Heroic Martyr

Hassan Albo

Heroic Martyr

Iyad Sajadiyeh"

Muhannad Halabi - 19-year-old Palestinian terrorist who killed 2 Israelis, Rabbi Nehemiah Lavi and Aharon Bennett, and injured Bennett's wife, Adele, and their 2-year-old son in a stabbing attack in the Old City of Jerusalem on Oct. 3, 2015. Following the attack, he was shot and killed by Israeli security forces. Prior to his attack, in a post to his private Facebook page, the terrorist referred to recent terror attacks as part of a "third Intifada," and said that it was a response to Israel's actions at the Al-Aqsa Mosque and that the Palestinian people would not "succumb to humiliation." This is a reference to the PA libel that Israel is plotting to take over and destroy the Al-Aqsa Mosque and to the PA's portrayal of Jews praying on the Temple Mount as "an invasion of the Al-Aqsa Mosque."

Hind Sharathah – 23-year-old female Palestinian activist in the Progressive Student Action Front student body of the terrorist organization Popular Front for the Liberation of Palestine (PFLP). Sharathah died on Dec. 2, 2003, of gas inhalation from tear gas grenades used by Israeli army forces during clashes near Al-Quds University.

Diya Al-Talahmeh – 23-year-old Islamic Jihad terrorist who blew himself up while trying to throw a hand grenade at an Israeli army vehicle on Sept. 22, 2015. His body was discovered by Israeli forces during searches carried out after the explosion.

Hassan Albo – 23-year-old Palestinian killed during clashes between Palestinians and Israeli soldiers in Halhoul, near Hebron, on Nov. 13, 2015. Palestinian sources say he was killed by Israeli gunfire. The Israeli army is investigating the incident.

Iyad Sajadiyeh – Palestinian killed in Qalandiya, on March 1, 2016, during confrontations with Israeli soldiers



» View analysis citing this item