Fatah poster glorifies "heroic Martyr" who carried out "heroic stabbing operation," accompanies him to his "wedding"
Headline: "A procession in Beit Ummar demanding the return of the bodies of the Martyrs that are being held by the occupation"
"Residents of the Hebron district yesterday [Nov. 18, 2016] demanded to receive the bodies of the Martyrs (
Shahids
) that are being held by the occupation authorities. This was during a quiet procession that went out from Beit Ummar north of Hebron, with the participation of relatives of the Martyrs."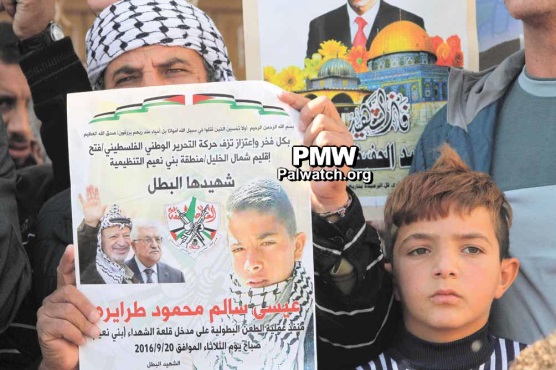 The article includes a picture of participants of the procession holding a poster with pictures of Yasser Arafat, PA Chairman Mahmoud Abbas, and terrorist Issa Taraireh.

Text on poster: "With full honor and pride, the Palestinian National Liberation Movement Fatah
Hebron branch / Bani Na'im organizational region
Accompanies to the wedding (i.e., Martyr's funeral is considered wedding to the 72 Virgins in Paradise in Islam) its heroic Martyr
Issa Salem Mahmoud Taraireh
who carried out the heroic stabbing operation at the entrance to the Fortress of the Martyrs (Bani Na'im) [parentheses in source]
On Tuesday morning, Sept. 20, 2016"

Issa Taraireh – 16-year-old Palestinian terrorist who attempted to stab Israeli soldiers at the entrance to Bani Na'im east of Hebron on Sept. 20, 2016. The soldiers shot and killed Taraireh. Taraireh is a relative of Muhammad Taraireh, who stabbed and murdered 13-year-old American Israeli Hallel Yaffa Ariel as she slept in her bed, in her home in Kiryat Arba near Hebron, on June 30, 2016.