Fatah Facebook honors terrorist stabber as "heroic Martyr"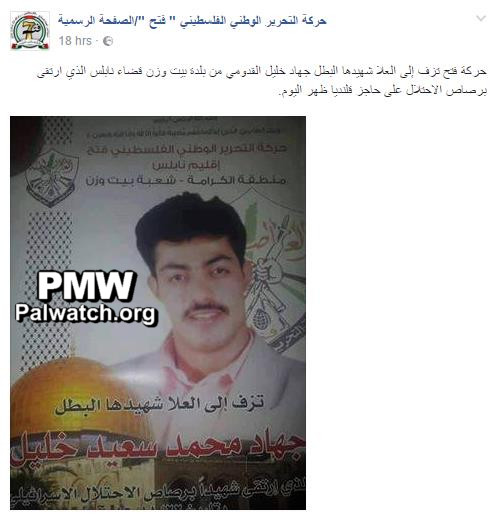 Image and text posted on the official Fatah Facebook page
Posted text:
"The Fatah Movement accompanies to Heaven its heroic Martyr (Shahid) Jihad Khalil Al-Qaddumi (i.e., terrorist) from the town of Beit Wazan in the Nablus sub-district, who was shot dead by the occupation at the Qalandiya checkpoint this afternoon [Nov. 22, 2016]."
The image features the same text as the post, overlaid on a picture of terrorist Jihad Al-Qaddumi, the Fatah logo, and the Dome of the Rock.

Jihad Al-Qaddumi – a Palestinian terrorist who tried to stab a security guard at the Qalandiya checkpoint on Nov. 22, 2016. Al-Qaddumi was shot and killed by the security guard.