Fatah: Two terrorist murderers are "heroic" and "the jewel in the crown"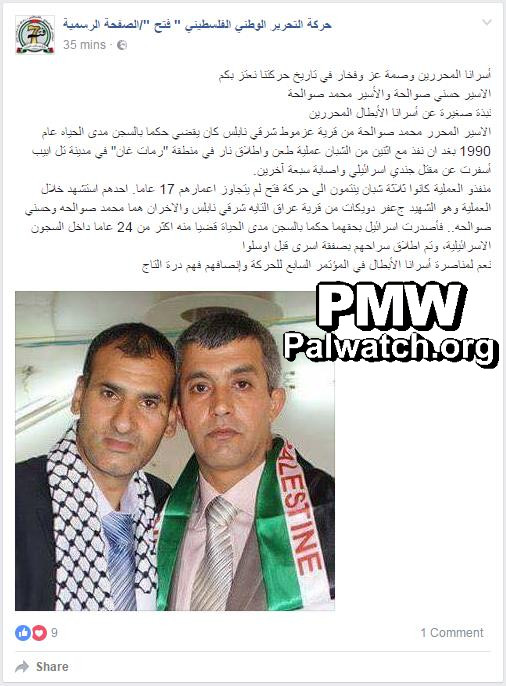 Image and text posted on the official Fatah Facebook page. The image shows released terrorists Hosni and Muhammad Sawalha, who murdered Israeli civilian Baruch Heizler in 1990.

Posted text:
"Our released prisoners are a badge of pride in the history of our [Fatah] Movement, we are proud of you prisoner Hosni Sawalha and prisoner Muhammad Sawalha (i.e., terrorists, murdered 1)
Something short on our heroic released prisoners:
Released prisoner Muhammad Sawalha from the village of Azmut, east of Nablus, had served a life sentence since 1990, after he carried out a stabbing and shooting operation together with two young people in the Ramat Gan region of the city of Tel Aviv, which caused the death of an Israeli soldier (sic., Israeli civilian) and the wounding of seven others (sic., three others were wounded).
Those who carried out the operation were three young people who belonged to the Fatah Movement, and they were no older than 17. One of them died as a Martyr (
Shahid
) during the operation, and he is Martyr Jaafar Dweikat from the village of Iraq Al-Tayeh, east of Nablus. The two others are Muhammad Sawalha and Hosni Sawalha, and Israel sentenced them to life sentences. The two served 24 years of [the sentences] in the Israeli prisons, and were released in the [release] deal of the prisoners from before Oslo (i.e., prisoners jailed before the 1993 Oslo Accords).
Yes to support of our heroic prisoners at the Seventh Fatah Conference and doing justice with them, as they are the jewel in the crown."
Muhammad
and Hosni Sawalha – stabbed Israeli civilian Baruch Heizler to death on a bus (Dec. 2, 1990). They also attempted to murder 3 Israeli girls. Both were released in August 2013 as two of 104 terrorists whom Israel agreed to release to fulfill the PA's precondition for renewing negotiations.