Fatah founder and commander of operations for Black September terror org glorified by Fatah's Facebook page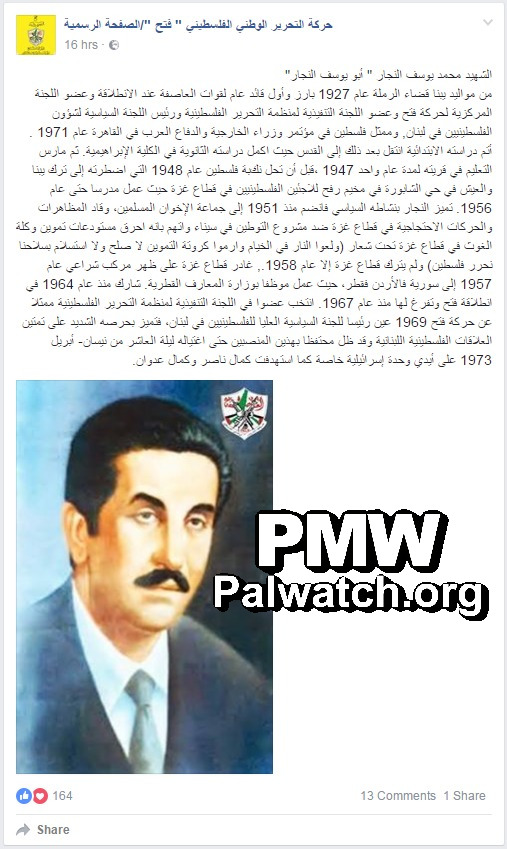 Image and text posted on the official Fatah Facebook page
Posted text:
"Martyr (
Shahid
) Muhammad Yusuf Al-Najjar was born in 1927 in Yibna, which is in the Ramle district.
The first and outstanding general commander of the Al-Asifa forces (i.e., Fatah military unit) at the time of the start of its activities (i.e., the time of Fatah's first terror attack in 1965, see below)…
From 1964 he took part in the establishment of Fatah, and he dedicated all of his time to it from 1967. He was elected as a member of the PLO Executive Committee for Fatah in 1969, and was appointed head of the Supreme Political Council of the Palestinians in Lebanon. He stood out for his strong protection of strengthening the Palestinian-Lebanese relations, and continued to hold these two roles until a special Israeli unit assassinated him on the night of April 10, 1973, as well as Kamal Nasser and Kamal Adwan."
Abu Yusuf Al-Najjar
was Arafat's deputy and among the founders of Fatah. He was the Commander of Al-Asifa, Fatah's military unit, and member of Fatah's Central Committee and PLO's Executive Committee. He also was the Commander of Operations of the terrorist organization Black September and involved in the murder of 11 Israeli athletes at the Munich Olympics (Sept. 5, 1972). He was killed by Israel in 1973.

Bombing of Israel's National Water Carrier - On Jan. 1, 1965, Palestinian terrorists attempted to bomb Israel's National Water Carrier. This was the first attack against Israel carried out by Fatah. Fatah refers to the attack as the "Intilaqa", meaning "the Launch" of Fatah.

Kamal Adwan and Kamal Nasser were both senior members of Black September who were killed by Israeli forces in April 1973. Kamal Nasser was also the spokesperson for the PLO and Fatah. Kamal Adwan was responsible for Fatah terrorist operations in Israel.