Fatah Facebook post commemorating 52nd anniversary includes images of a rocket launcher, rocket, rifle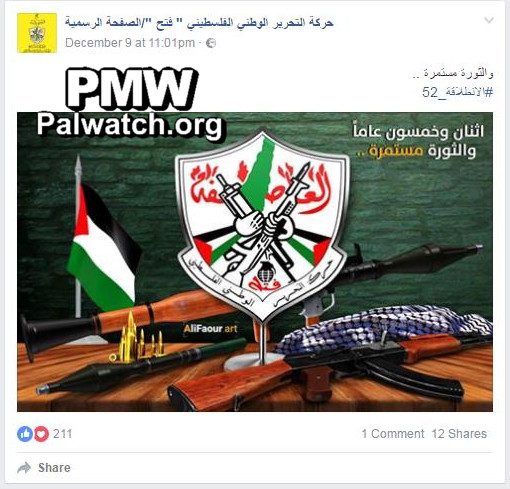 Image and text posted on the official Fatah Facebook page
Posted text:

"And the revolution continues
#The_Launch(
Intilaqa
)_52"
The image shows the Fatah logo, which includes a grenade and crossed rifles over the map of "Palestine" that presents all of Israel as Palestine together with the PA areas. Around it are a rocket launcher, a rocket, a rifle, ammunition, a Palestinian flag, and a
keffiyeh
(Arab headdress).
Text on image:
"52 years and the revolution continues"
Intilaqa
- "the "launch" of Fatah on Jan. 1, 1965, when it carried out its first terror attack against Israel, attempting to blow up Israel's National Water Carrier