Image posted by Fatah Facebook shows image of Arafat, rifle, other weapons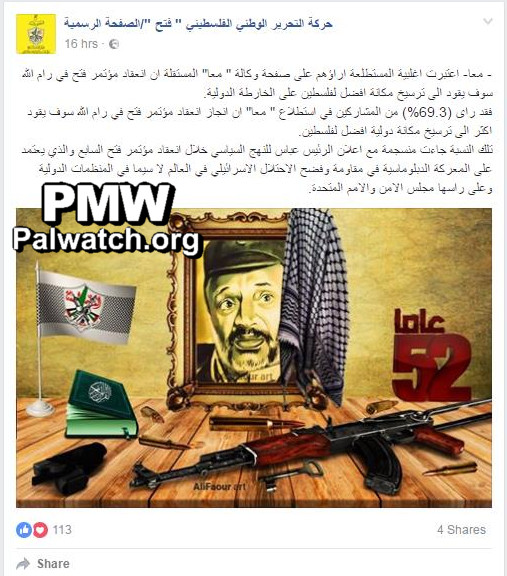 Image and text posted on the official Fatah Facebook page
The posted text refers to a survey carried out by the independent Palestinian news agency Ma'an, in which most of the participants responded that holding the Seventh Fatah Conference in Ramallah will improve the standing of "Palestine" on the global map.
Text on image:
"52 years" - referring to the 52nd anniversary of the "launch" (
Intilaqa
) of Fatah on Jan. 1, 1965, when it carried out its first terror attack against Israel.
The image also shows a rifle, a pistol, bullets, a picture of Yasser Arafat with a
keffiyeh
(Arab headdress) hanging from it, a Quran, and a small flag with the Fatah logo, which includes a grenade and crossed rifles over the map of "Palestine" that presents all of Israel as Palestine together with the PA areas.
Intilaqa
- "the "launch" of Fatah on Jan. 1, 1965, when it carried out its first terror attack against Israel, attempting to blow up Israel's National Water Carrier