Fatah Facebook posts words of Munich Massacre planner that promote "armed struggle" at the right time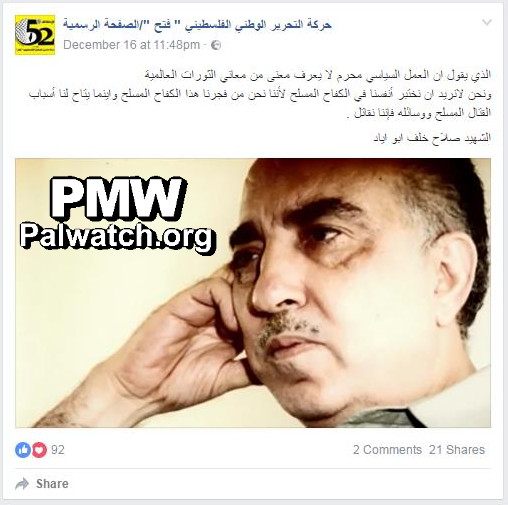 Picture and text posted on the official Fatah Facebook page
The picture shows Fatah founder and head of the Black September terrorist organization Salah Khalaf.
Posted text:
"Whoever says that the political activity is forbidden does not know anything about the world revolutions
We do not want to test ourselves in the armed struggle because we are the ones who started this armed struggle, and wherever the circumstances of the armed struggle and its means allow us, we will fight.
Martyr (
Shahid
) Salah Khalaf 'Abu Iyad'"
Salah Khalaf (Abu Iyad)
- One of the founders of Fatah and head of the terror organization Black September. Attacks he planned include the murder of 11 Israeli athletes at the Munich Olympics (Sept. 5, 1972) and the murder of two American diplomats in Sudan (March 1, 1973). It is commonly assumed that his assassin, a former Fatah bodyguard, was sent by the Abu Nidal Organization, a rival Palestinian faction.