Fatah parade celebrates terrorist who murdered 37
Headline:
"Fatah held a military parade for the anniversary of its Launch in Bethlehem"
Large poster of terrorist Dalal Mughrabi
Text on poster: "Bethlehem branch of the Fatah Movement"

Posters of Dalal Mughrabi PA Chairman Mahmoud Abbas and Yasser Arafat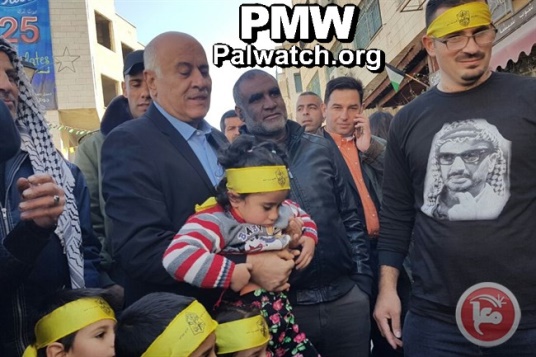 Fatah Central Committee Deputy Secretary and Head of the Supreme Council for Sport and Youth Affairs Jibril Rajoub holds child at the parade.
"The Fatah branch in Bethlehem held a military parade today, Sunday [Jan. 1, 2017], on the 52nd anniversary of the outbreak of the Palestinian revolution and the Launch (
Intilaqa
) of the Fatah Movement.
Taking part in the military parade were the organizational branches, the student organizations, groups of masked people, and the Sisters of Dalal [committee of Fatah's Shabiba student movement], who passed through the streets of the city…
Taking part in the reception of the military parade were several of the new members of the [Fatah] Movement Central Committee, heads of the [PA] Security Forces, secretaries of the organizational branches, and the official and popular institutions…
[Fatah] Movement Central Committee member 'Abu Jihad' [Mahmoud ] Al-Aloul gave a speech in which he blessed the Palestinian people on the day of the Launch and Christmas, and emphasized the historic role of Fatah from the revolution until the PA and the building of the institutions of the future Palestinian state."
Intilaqa
- "the Launch" refers to the beginning of Fatah on Jan. 1, 1965, when it carried out its first terror attack against Israel, attempting to blow up Israel's National Water Carrier.

Dalal Mughrabi led the most lethal terror attack in Israel's history, known as the Coastal Road massacre, in 1978, when she and other Fatah terrorists hijacked a bus on Israel's Coastal Highway, killing 37 civilians, 12 of them children, and wounding over 70.