Fatah FB cartoon honors "fighter archbishop" who smuggled weapons to terrorists; map of Palestine erasing Israel appears in corner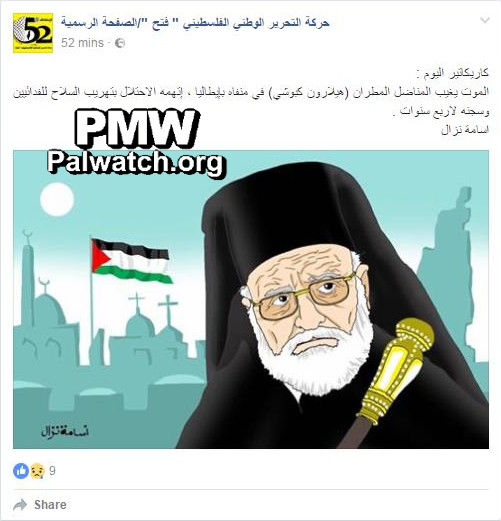 Posted text:
"Cartoon of the day:
Fighter Archbishop Hilarion Capucci died in the place of his exile in Italy
The occupation accused him of smuggling weapons for the self-sacrificing fighters, and imprisoned him for 4 years
[Cartoonist] Osama Nazzal"

The cartoon shows former Greek Catholic Archbishop of Jerusalem Hilarion Capucci. In the background to his left can be seen a Palestinian flag flying over a church and a mosque. In the background to his right appears the PA map of "Palestine" that presents all of Israel as "Palestine" together with the PA areas.

Hilarion Capucci – former Greek Catholic Archbishop of Jerusalem who exploited his status as a religious leader to smuggle weapons to Palestinian terrorists. He was arrested in 1974 and sentenced to 12 years in prison. He was released in 1977 due to the Vatican's intervention. In October 2013, PA Chairman Mahmoud Abbas awarded him the Star of Jerusalem Medal.