Abbas inaugurates street named after archbishop who smuggled weapons to Palestinian terrorists
Image and text posted on the Facebook page of PA Chairman Mahmoud Abbas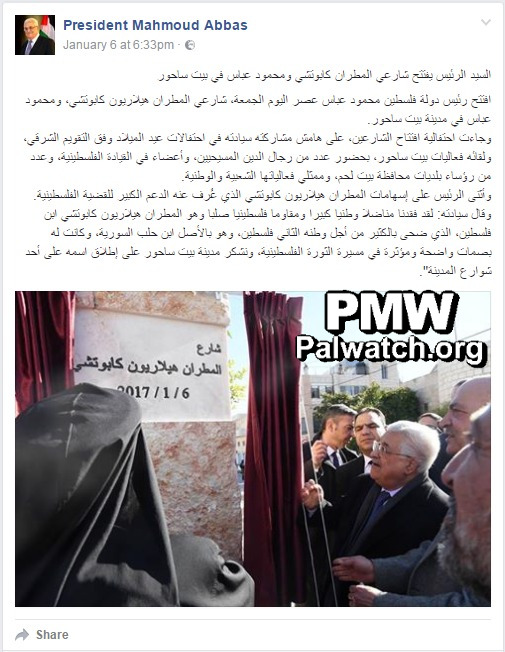 Posted text:
"[PA] President [Mahmoud Abbas] inaugurated Archbishop [Hilarion] Capucci Street and Mahmoud Abbas Street in Beit Sahour.
President of the State of Palestine Mahmoud Abbas this afternoon, Friday [Jan. 6, 2017], inaugurated Archbishop Hilarion Capucci Street and Mahmoud Abbas Street in the city of Beit Sahour…
The president praised the contributions of [former Greek Catholic] Archbishop [of Jerusalem] Hilarion Capucci, who was recognized thanks to his great support of the Palestinian cause. His Honor [Abbas] said: 'We have lost a great national fighter and a tenacious Palestinian resistance fighter, and that is Archbishop Hilarion Capucci, a son of Palestine, who sacrificed much for his second homeland of Palestine, for originally he was from the city of Aleppo in Syria. He left clear and influential fingerprints on the path of the Palestinian revolution, and we thank the city of Beit Sahour for naming one of the city's streets after him.'"
The image shows PA Chairman Mahmoud Abbas unveiling the street sign: "Archbishop Hilarion Capucci Street – Jan. 6, 2017"

[Facebook page of PA Chairman Mahmoud Abbas, Jan. 6, 2017;
Official PA daily Al-Hayat Al-Jadida, Jan. 7, 2017]
Hilarion Capucci – former Greek Catholic Archbishop of Jerusalem who exploited his status as a religious leader to smuggle weapons to Palestinian terrorists. He was arrested in 1974 and sentenced to 12 years in prison. He was released in 1977 due to the Vatican's intervention. In October 2013, PA Chairman Mahmoud Abbas awarded him the Star of Jerusalem Medal.