Fatah holds sit-in strike for terrorists, including planner of bat-mitzvah suicide bombing
Image and text posted on the official Fatah Facebook page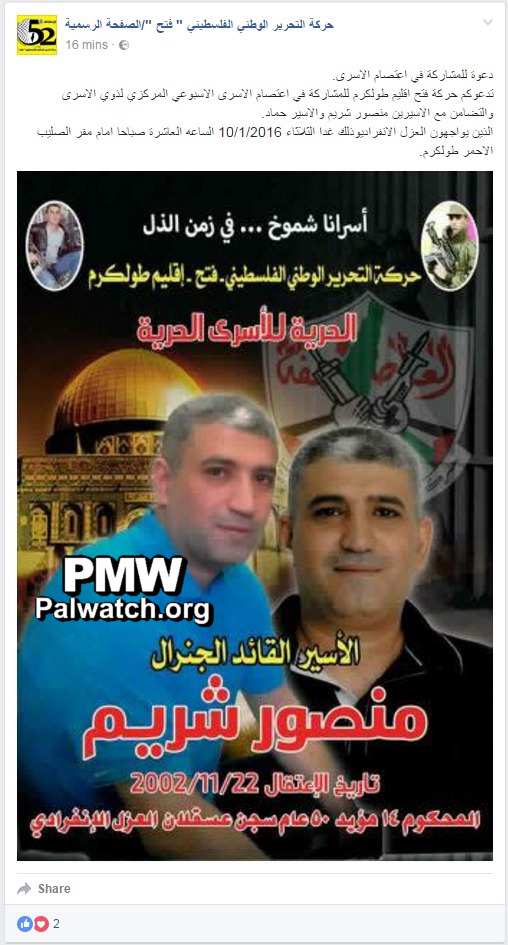 Posted text:

"An invitation to participate in a sit-in strike [for] the prisoners
The Tulkarem branch of the Fatah Movement calls on you to participate tomorrow, Tuesday, Jan. 10, 2016 (sic., 2017), at 10:00 a.m. in the weekly central sit-in strike of the prisoners' relatives in front of the Red Cross headquarters in Tulkarem, as a sign of solidarity with prisoners Mansour Shreim (i.e., terrorist, responsible for the murder of 11) and [Thaer] Hammad (i.e., terrorist, murdered 10) who are in isolation."
Text on image:

"Our prisoners are [a source of] pride in the era of humiliation
The Tulkarem branch of the Fatah Movement
Freedom to the freedom prisoners
Prisoner Commander General
Mansour Shreim
Date of arrest: Nov. 22, 2002
Sentenced to 14 life sentences and another 50 years, in isolation in Ashkelon Prison"
Mansour Shreim
– Palestinian terrorist responsible for the murder of 11 Israelis - 1 soldier and 10 civilians. Shreim participated in the murder of an Israeli soldier near Kibbutz Mezer on Oct. 28, 2001. Shreim also sent terrorists to commit the following terror attacks: a shooting attack at a bat-mitzvah celebration in Hadera on Jan. 17, 2002, in which 6 were murdered and over 30 injured; a shooting attack in Itamar on May 28, 2002, in which 3 teenage students at the yeshiva (Jewish religious studies academy) were murdered; the murder of a civilian in West Tulkarem on Aug. 1, 2002. Shreim is serving 14 life sentences and an additional 50 years.

Thaer Hammad – Palestinian terrorist serving 11 life sentences for murdering 3 Israeli civilians and 7 soldiers by shooting them with a sniper rifle from a hilltop in Wadi Al-Haramiya between Ramallah and Nablus on March 3, 2002.