Fatah highlights trending hashtag on Twitter in Turkey following truck-ramming that killed 4: #PalestinianResistanceIsNotTerror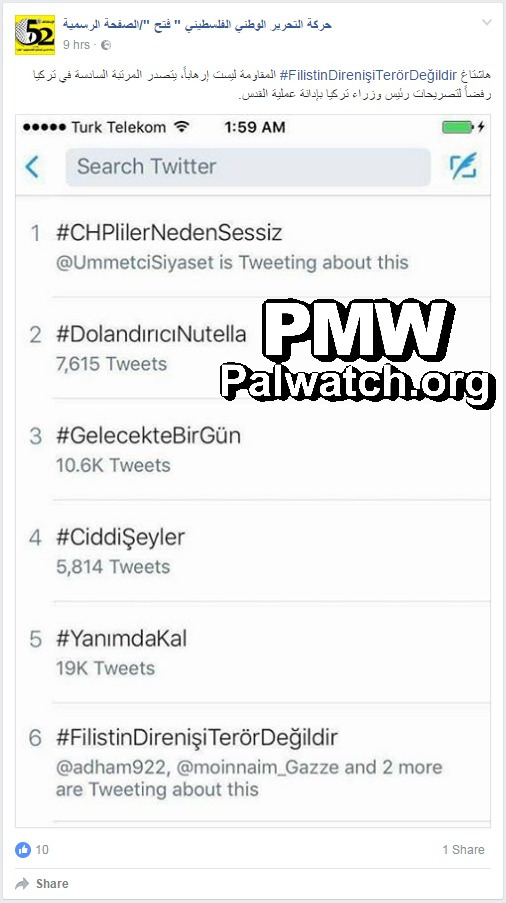 Image and text posted on the official Fatah Facebook page
Posted text:
"The hashtag #FilistinDirenişiTerörDeğildir – #PalestinianResistanceIsNotTerror – takes sixth place [in the Twitter rankings] in Turkey as a sign of opposition to Turkish Prime Minister [Binali Yildirim's] statements condemning the Jerusalem operation (i.e., terror attack, 4 murdered, over 15 wounded)"
The image presents a screenshot from Twitter, showing that the indicated hashtag is ranked in sixth place in Turkey.

Fadi Al-Qanbar – 28-year-old Palestinian terrorist who on Jan. 8, 2017, murdered 4 Israeli soldiers – officer Yael Yekutiel, 20, and cadets Shir Hajaj, 22, Shira Tzur, 20, and Erez Orbach, 20 – and wounded over 15 other soldiers in a truck ramming attack at the Armon Hanatziv Promenade, in southeast Jerusalem. After ramming into the soldiers at high speed, Al-Qanbar ran over the wounded soldiers again repeatedly, until an armed civilian, who was also hit by the truck, managed to get up and shoot and kill the terrorist. Al-Qanbar supported ISIS online.