Fatah: "Hebrew media is inciting against Palestinian President Mahmoud Abbas" after his photo with young boy and poster of terrorist Dalal Mughrabi
Images and text posted on the official Fatah Facebook page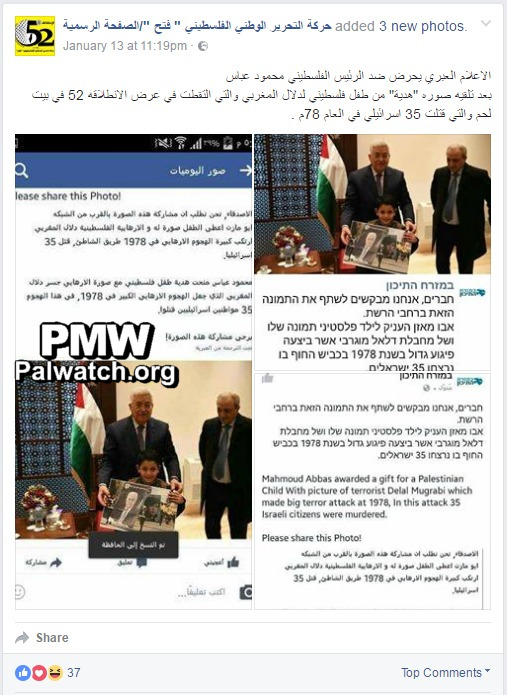 Posted text:

"The Hebrew media is inciting against Palestinian [PA] President Mahmoud Abbas
After he received as a 'gift' from a Palestinian boy a picture of Dalal Mughrabi, who killed 35 Israelis (sic., 37) in 1978, from the 52nd [Fatah] Launch (
Intilaqa
) rally in Bethlehem"
The images show posts in Hebrew, English, and Arabic by the Israeli news Facebook page "In the Middle East," which reported on the photo posted on the official Fatah Facebook page on Jan. 13, 2017. The photo shows PA Chairman Mahmoud Abbas, together with a boy, holding a picture from a Fatah rally which shows a poster of Abbas and a poster of terrorist Dalal Mughrabi, who led the murder of 37 civilians, including 12 children.
Text on the posts in the image:

"Friends, we ask to share this picture throughout the network.
[PA Chairman] Mahmoud Abbas gave a Palestinian boy a picture of him and of terrorist Dalal Mughrabi who carried out a large terror attack in 1978 on the Coastal Road in which 35 Israelis (sic., 37) were murdered."
Dalal Mughrabi
led the most lethal terror attack in Israel's history, known as the Coastal Road massacre, in 1978, when she and other Fatah terrorists hijacked a bus on Israel's Coastal Highway, killing 37 civilians, 12 of them children, and wounding over 70.

Intilaqa - "the Launch" refers to the beginning of Fatah on Jan. 1, 1965, when it carried out its first terror attack against Israel, attempting to blow up Israel's National Water Carrier