Olive tree planted in Abbas' name in Israeli village to promote peace
Headline: "On behalf of the [PA] president – an olive tree was planted in the village of Neve Shalom"
"A delegation from the PLO Committee for Contact [with Israeli Society], led by Fatah Central Committee member Rawhi Fattouh, planted an olive tree on behalf of [PA] President Mahmoud Abbas in the village of Neve Shalom (i.e., a joint Arab-Jewish village) next to Latrun, within the Green Line (i.e., within Israel; the Green Line is the ceasefire line between Israel and the neighboring Arab countries, 1949-1967), as a mark of appreciation for the Palestinian and Israeli people of peace.
It should be noted that this is the first tree that was planted in the Peace Park at the entrance to the village.
Representatives from five Israeli peace institutions and organizations, as well as residents of the village, were present at this event. Committee for Contact member Dr. Ziyad Darwish praised the symbolism of planting this tree on behalf of the president, and emphasized that His Honor is a true peace partner, in contrast to what the Israeli extremist right claims, and that this tree is again planted in the Palestinian ground so that its roots will lengthen and deepen into it.
Darwish demanded that the states of the world stop the theft of the Palestinian lands and form an alliance for the end of the occupation and the establishment of a Palestinian state on the '67 borders, whose capital is East Jerusalem.
Committee for Contact member Dr. Anwar Abu Aisheh also spoke, talking about the values of peace and the need to realize it as soon as possible. At the end of the event, Rawhi Fattouh thanked the residents of the village and those in charge of it on behalf of President Mahmoud Abbas, and emphasized that planting a tree, and particularly an olive tree, shows the intention of the Palestinian leadership, led by President Abbas, for peace and activity to achieve it. Ambassador of the European Union [Ralph Tarraf] was present at the event and emphasized in his words that the EU supports the two-state solution because it is the best solution."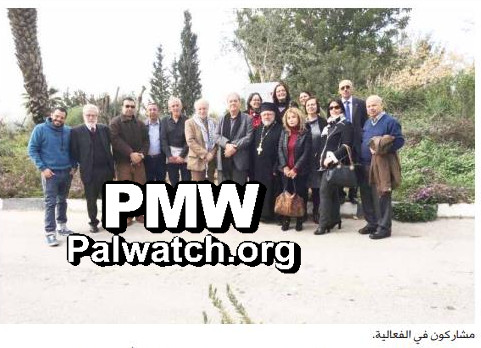 The article includes a picture from the event.
Picture caption: "Event participants"

Green Line - 1949-1967 ceasefire line between Israel and the neighboring Arab countries (Egypt, Jordan, Lebanon and Syria) following Israel's War of Independence (1948-1949). Land within the Green Line is all part of the State of Israel since 1949. Land outside the Green Line includes East Jerusalem, the West Bank, the Gaza Strip, and the Golan Heights.