Boy's recital at Fatah event: "My bullets are loud, My rifle is an adornment"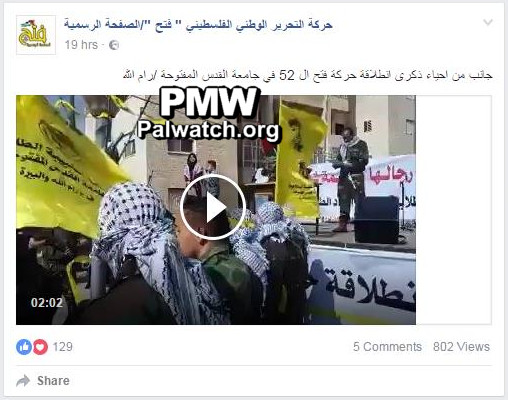 Video and text posted on the official Fatah Facebook page
The video shows a boy reciting the opening monologue of the song
Fatah Was He
re by Adnan Balawnah, on stage at a Fatah event at Al-Quds Open University in Ramallah for "the Launch" (
Intilaqa
) of Fatah, with masked Fatah members in military uniforms and
keffiyehs
(Arab headdresses) standing at attention.
Posted text:
"Footage from the marking of the anniversary of the Launch (Intilaqa) of the Fatah Movement at Al-Quds Open University in Ramallah"
Boy:
"It blew to the east, it blew to the west,
The fire and the flames ignited,
Why are you confused? What is happening?
After all the tidings have arrived right to us,
Men who can destroy mountains have arrived,
Al-Asifa (i.e., Fatah military unit, literally "the Storm") is our hope.
My respite is in my rifle,
O my wounds and suffering,
I am the Fatah giant who burst forward,
Who called and said,
Several years ago,
My bullets are loud,
My rifle is an adornment,
Do not tell me who I am,
I come to resist, I do not negotiate,
O homeland, over my dead body,
If I see that you have shot, I will shoot,
Know, this is our Fatah."

Intilaqa - "the Launch" refers to the beginning of Fatah on Jan. 1, 1965, when it carried out its first terror attack against Israel, attempting to blow up Israel's National Water Carrier