Fatah FB: Terrorist Marwan Barghouti is the "Nelson Mandela of Palestine"
Image and text posted on the official Fatah Facebook page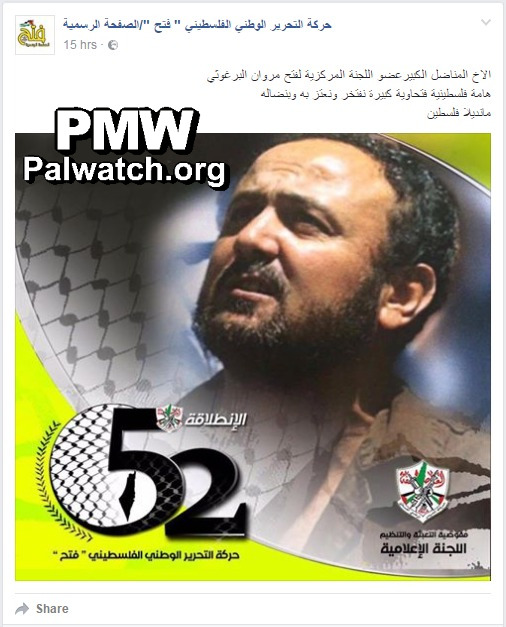 The image shows terrorist Marwan Barghouti who orchestrated three shooting attacks in which 5 were murdered. On the image appears the logo of the 52nd anniversary of "the Launch" (
Intilaqa
) of Fatah, which features the PA map of "Palestine" that presents all of Israel as "Palestine" together with the PA areas, a
keffiyeh
(Arab headdress), and the Fatah logo with a grenade, crossed rifles, and the PA map of "Palestine." The Fatah logo also appears in the bottom right corner of the image.
Posted text:
"Brother and great fighter, Fatah Central Committee member Marwan Barghouti
An important and great Palestinian Fatah figure, in whom and in whose struggle we take pride
The [Nelson] Mandela of Palestine"

Marwan Barghouti – Palestinian terrorist who is serving 5 life sentences for orchestrating three shooting attacks that killed 5 people: one attack in Jerusalem (June 12, 2001) in which Greek monk Tsibouktsakis Germanus was murdered by terrorist Ismail Radaida and another unidentified terrorist, another attack at a gas station in Givat Zeev near Jerusalem (Jan. 15, 2002) in which Yoela Hen, 45, was murdered by terrorists led by Mohammed Matla, and one shooting and stabbing attack at the Sea Food Market restaurant in Tel Aviv (March 5, 2002) in which Eli Dahan, 53, Yosef Habi, 52, and Police Officer Sergeant-Major Salim Barakat, 33, were murdered by terrorist Ibrahim Hasouna. When arrested by Israel in 2002, Barghouti headed the Tanzim (Fatah terror faction). After he was convicted and imprisoned, he was re-elected member of the Palestinian Authority parliament.


Intilaqa
- "the Launch" refers to the beginning of Fatah on Jan. 1, 1965, when it carried out its first terror attack against Israel, attempting to blow up Israel's National Water Carrier