PA TV filler promotes "right of return," logo of filler production has map of "Palestine" erasing Israel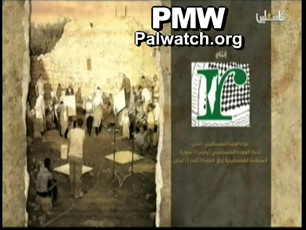 Official PA TV music video on the Palestinian "right of return" played as an interlude between programs
Visual:
Towards the end of the music video Palestinians are seen fleeing their homes that are going up in flames during the 1948 war with Israel (Israel's War of Independence.) The father of a family fleeing their home is seen passing a large key to his child.
Song:
"Despite the fact that we were expelled from our homes and now are old, we still have the key that reminds us of the smell of that home, and reminds us of the address to return to."
Visual:
The logo of the music video's production includes the PA map of "Palestine" that presents all of Israel as "Palestine" together with the PA areas.
The production credits at the end of the video list the following groups:
"Palestinian Return Centre (PRC)
Palestinian Return Association in Syria
The Palestinian Organization for the Right of Return in Lebanon"