Fatah glorifies Central Committee member by comparing him to terrorist who murdered 125 Israelis, Stabbing attacks are Palestinians' legal right
Text and image posted on the official Fatah Facebook page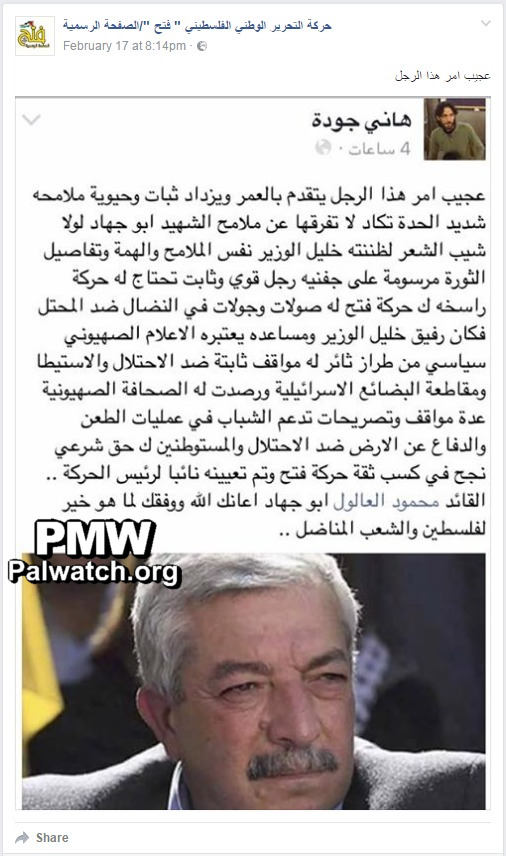 Posted text:
"How wonderful this man is"
The image shows Fatah Movement Deputy Chairman Mahmoud Al-Aloul.
Text on image:
"How wonderful this man is, who the older he gets, the more his stability and the vitality of his powerful facial features, which are almost identical to those of Martyr (Shahid) Abu Jihad (i.e., former head of the PLO terror organization's military wing). If not for the white hair, we would have thought he was Khalil Al-Wazir (i.e., Abu Jihad)… The Zionist press has documented a number of standpoints and statements of his that supported the young people in the stabbing operations and defense of the land against the occupation and settlers as a legal right. He succeeded in winning the trust of the Fatah Movement and was appointed deputy chairman of the movement. Leader Mahmoud Al-Aloul Abu Jihad, may Allah help you and guide you to what is good for Palestine and the fighting people."

Abu Jihad (Khalil Al-Wazir) was a founder of Fatah and deputy to Yasser Arafat. He headed the PLO terror organization's military wing and also planned many deadly Fatah terror attacks in the 1960's - 1980's. These attacks, which killed a total of 125 Israelis, included the most lethal in Israeli history - the hijacking of a bus and killing of 37 civilians, 12 of them children.