Cartoon posted on Fatah Twitter depicts UK and Israel stabbing map of "Palestine"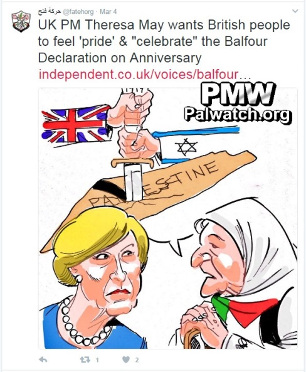 Cartoon and text tweeted from the official Fatah Twitter account
Tweeted English text:
"UK PM Theresa May wants British people to feel 'pride' & 'celebrate' the Balfour Declaration on Anniversary
independent.co.uk/voices/balfour…"
The cartoon shows a Palestinian woman, part of her clothes forming the Palestinian flag, speaking with British Prime Minister Theresa May. In the woman's speech bubble two hands with the British and Israeli flags on their sleeves are seen stabbing the PA map of "Palestine" that presents all of Israel as "Palestine" together with the PA areas. On the map is written "Palestine."
The link to the British news website The Independent leads to a "page not found" message.