Response to UK Daily Mail article covering PMW findings on PA school names: "British newspaper incites against Palestinian schools"
Headline:
"A British newspaper incites against Palestinian schools and accuses them of supporting 'violence'"
"The British
Daily Mail
newspaper yesterday, Saturday [March 11, 2017], published an extensive investigation (based on report on PA education by PMW –Ed.) in which it revealed the extent of the financial aid that the British government provides to the Palestinian schools and educational institutions. It also 'revealed' that there are 24 schools that bear the names of what it described as 'terrorists' who killed Israelis, alongside the incitement that grows within the walls of these schools. This was according to the British newspaper that was quoted today on the website of [the Israeli newspaper]
Yediot Aharonot
.
This article constitutes a new step in a series of reports and articles that the newspaper has published against the aid money that the British government provides to the Palestinians in particular, and against the British foreign aid in general. Even before this, the newspaper claimed in a previous article that British taxpayers' money was used to finance what it called 'convicted' Palestinian 'terrorists' and their families.
The newspaper is now focusing its efforts against the Palestinian schools and the PA's educational institutions…
The British newspaper was aided in preparing the article by a report published by the 'Friends of Israel' association in the Liberal Party (sic., the report was prepared for Labour Friends of Israel) and the Palestinian Media Watch organization, in which it was claimed that there are 24 Palestinian schools bearing the names of 'terrorists that killed dozens of Israelis.' The report also explained that Britain provides financial aid to four schools bearing the name of 'terrorist' Muhammad Daoud Oudeh, known as Abu Daoud, who was responsible for planning the Munich operation (i.e., terror attack) that led to the death of 11 athletes in the Israeli delegation that participated in the Olympics."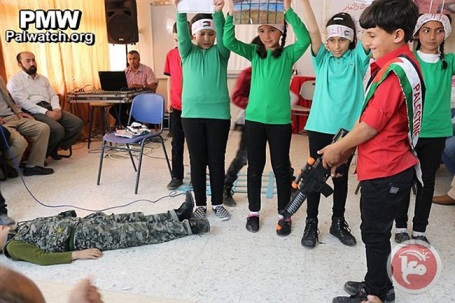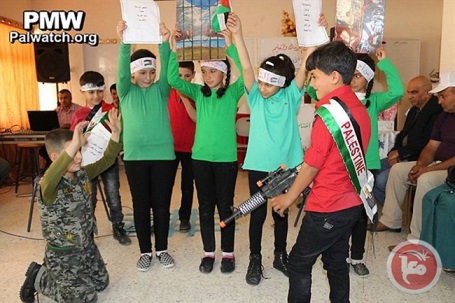 Pictures in the article show children performing a play in which Palestinians kill an Israeli soldier, as reported in the Daily Mail article. The pictures include the Palestinian Media Watch logo.
Muhammad Daoud Oudeh
- Member of Black September, mastermind of Munich Olympics hostage-taking and resulting murder of 11 Israeli athletes in 1972