Palestinian schools educate towards boycott of Israeli products
Official PA TV program Palestine This Morning, on the PA Ministry of Education campaign to boycott Israeli products
Official PA TV reporter
: "In order to raise an educated generation that boycotts the occupation's products and adheres to the national heritage, the Education Directorates (i.e., under the PA Ministry of Education) have launched the Granary Guardians campaign in several schools in the homeland's districts, whose purpose is to boycott the occupation's products. Here, in the Mirka High School for Girls, in the southwest of the Jenin district, various and diverse activities [were held] for the female elementary and high school students, such as a debka (i.e., Arab folk dance) and plays against the occupation's products."
Director of the Mirka High School for Girls Samira Khalaf
: "The [PA] Ministry of Education with the assistance of the Ministry of Economy has launched the Granary Guardians campaign in the schools in order to spread the culture of supporting the national products and boycotting the Israeli products."
…
Palestinian teacher Ghada Abd Al-Rahman
: "The goal of our campaign is to boycott Israeli products and support Palestinian products, because if we buy from the occupation, that money goes to weapons and they will shoot our sons."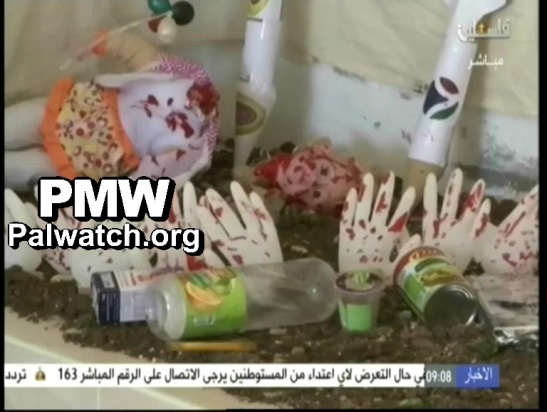 This screenshot shows an exhibit from the campaign depicting bloody –disembodied hands and a doll with its head removed. Around them are scattered Israeli products and what looks like a missile with the logo of the Israeli dairy company Tnuva on it. The message is that purchasing Israeli products leads to the killing of Palestinians.



This screenshot shows the text: "Do not fund their bullets"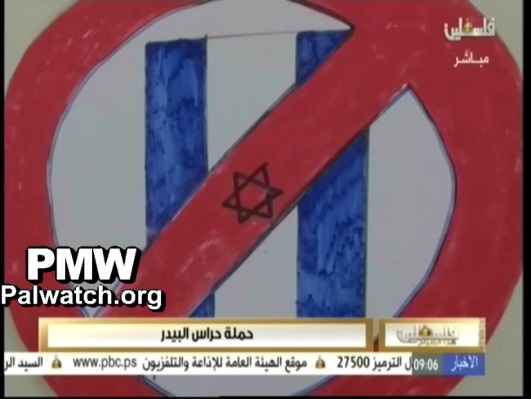 This screenshot shows a drawing of a crossed out Israeli flag.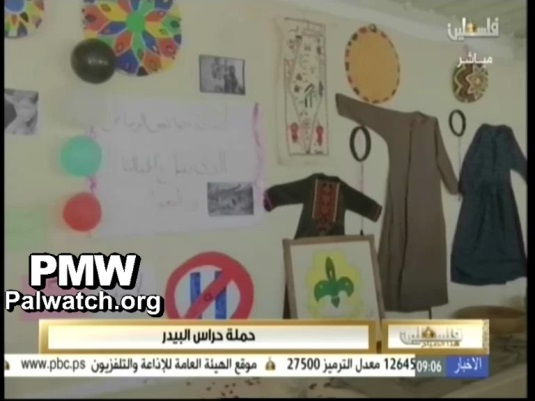 This screenshot shows children's works in the campaign exhibit, including a picture on the wall showing the PA map of "Palestine" that presents all of Israel as "Palestine" together with the PA areas with a Palestinian flag on it.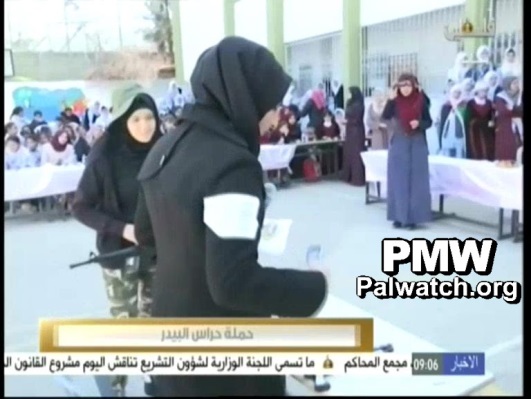 This screenshot shows female students playing the part of Israeli soldiers in a school play.
Click to view bulletin


» View analysis citing this item