Fatah FB glorifies terrorist who stormed the Church of Nativity and used monks as human shields
Image and text posted on the official Fatah Facebook page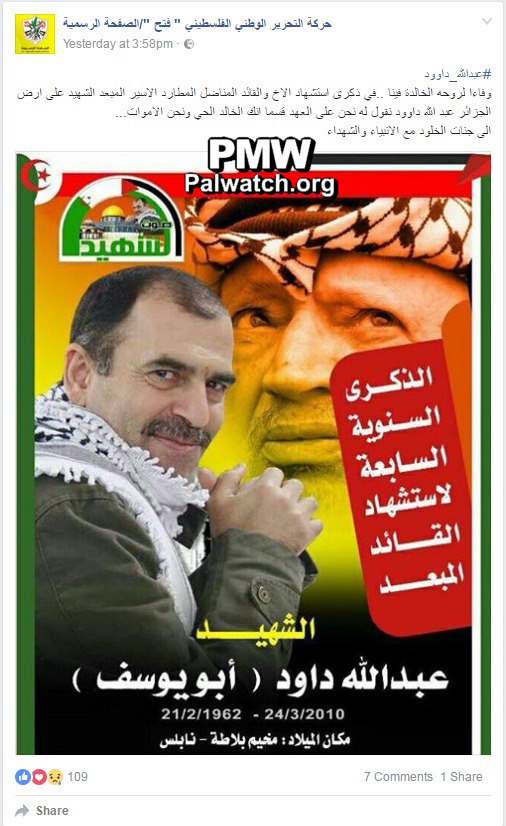 Posted text:
"#Abdallah_Daoud (i.e., terrorist)
As a sign of loyalty to his soul that is constantly among us. On the anniversary of the death as a Martyr (
Shahid
) of the commander, fighter, and prisoner expelled to the land of Algeria, Abdallah Daoud, we say to him 'We are loyal to the path, and we swear that you are the one who lives eternally and we are the dead .' May you dwell in Paradise together with the prophets and the Martyrs."
The image shows terrorist Abdallah Daoud, and in the background Yasser Arafat.

Text on image:
"The seventh anniversary of the death as a Martyr of the expelled commander,
Martyr Abdallah Daoud 'Abu Yusuf'
Feb. 21, 1962 – March 24, 2010
Birthplace: The Balata refugee camp in Nablus"

Abdallah Daoud
was responsible for numerous terror attacks. He was one of the terrorists who stormed into the Church of the Nativity in 2002, continuing to fight against Israel for several weeks while using the monks and the religious site as a shield. He was deported to Cyprus and later Mauritania, and died in Algeria of natural causes.