Fatah student movement threatens day of terror and killing against "Nazi" Israel for "heroic" prisoners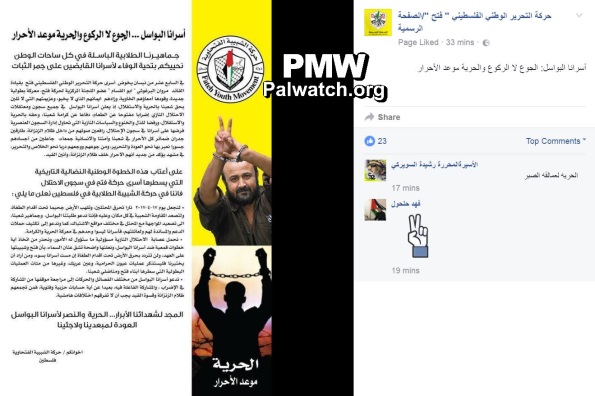 Image posted on the official Fatah Facebook page

The image shows a statement by the Fatah student movement Shabiba regarding a planned hunger strike by Fatah prisoners starting on Prisoner's Day, April 17, 2017.
Text on image:
"On April 17, [2017,] prisoners of the Palestinian National Liberation Movement Fatah led by Fatah Movement Central Committee member, leader Marwan Barghouti 'Abu Al-Qassam' (i.e., terrorist who orchestrated three shooting attacks in which 5 were murdered) will launch a new heroic campaign, whose fuel is their empty stomachs…
Our brave prisoners in all of the Nazi occupation's prisons and detention camps are declaring a hunger strike with no time limit to defend the dignity of our people and its right to freedom and independence, and in resistance to the humiliation and the Nazi policy that the racist [Israeli] Prison Service is trying to impose on our prisoners…
We in the [Fatah] student [movement] Shabiba in Palestine declare the following:
Let us turn April 17, 2017, into a fire that will burn the occupiers and burn the land like an inferno under the feet of the tyrants, and let's escalate the popular resistance (i.e., term used by Palestinians that includes use of violence -Ed.) everywhere. Therefore, we call on our brave students and the masses of our people to escalate the confrontation with the occupier at all the places of confrontation. We also call to intensify the campaigns of support for them and their families, because our prisoners are not alone in the campaign for freedom and dignity.
We hold the Nazi occupation gang responsible for what will happen. We warn against taking any steps of oppression against our brave prisoners. We declare in a clear manner that splits the sky: Fatah and its Shabiba are committed to a promise. We will not hesitate to burn the land under the feet of the tyrants if [Israel] harms the prisoners. Whoever wants to test us should remember the Wadi Al-Haramiya operation (i.e., terror attack, 10 murdered), the Ein Arik operation (i.e., terror attack, 6 murdered), and the hundreds of heroic operations that were carried out by Fatah members and the fighters of our people.
• We call on our brave prisoners from all of the factions and movements to reexamine their position regarding participation in the strike, and to actively participate in it regardless of any sort of factional and sectoral considerations. Insignificant differences of opinion do not need to divide those who are unified by the darkness of the prison cell and the cruelty of the chains.
Glory to our righteous Martyrs (

Shahids

), freedom and victory to our brave prisoners, return for our expelled and our refugees"

Click to view bulletin
The terms "all means," "popular uprising," and "popular resistance" are often used by PA leaders to refer to events that include violence and deadly terror against Israeli civilians such as rock-throwing, stabbings and even shootings. See Mahmoud Abbas' reference to murderous terror as "peaceful" during the 2015-2016 terror wave ("The Knife Intifada"), which included numerous stabbings, shootings and car ramming attacks in which 40 people were killed (36 Israelis, 1 Palestinian, 2 Americans and 1 Eritrean) and hundreds wounded:

Marwan Barghouti - Palestinian terrorist who is serving 5 life sentences for orchestrating three shooting attacks that killed 5 people: one attack in Jerusalem (June 12, 2001) in which Greek monk Tsibouktsakis Germanus was murdered by terrorist Ismail Radaida and another unidentified terrorist, another attack at a gas station in Givat Zeev near Jerusalem (Jan. 15, 2002) in which Yoela Hen, 45, was murdered by terrorists led by Mohammed Matla, and one shooting and stabbing attack at the Sea Food Market restaurant in Tel Aviv (March 5, 2002) in which Eli Dahan, 53, Yosef Habi, 52, and Police Officer Sergeant-Major Salim Barakat, 33, were murdered by terrorist Ibrahim Hasouna. When arrested by Israel in 2002, Barghouti headed the Tanzim (Fatah terror faction). After he was convicted and imprisoned, he was re-elected member of the Palestinian Authority parliament. On Dec. 4, 2016, he was elected to Fatah's Central Committee.

Wadi Al-Haramiya attack - Palestinian terrorist Thaer Hammad is serving 11 life sentences for murdering 3 Israeli civilians and 7 soldiers by shooting them with a sniper rifle from a hilltop in Wadi Al-Haramiya between Ramallah and Nablus on March 3, 2002.

Ein Arik checkpoint attack - on Feb. 19, 2002, 2 Palestinian terrorists who were PA Security Forces members opened fire on the Ein Arik checkpoint, west of Ramallah, murdering 6 Israeli soldiers and wounding 1. The Al-Aqsa Martyrs' Brigades, Fatah's military wing, claimed responsibility for the attack. One of the terrorists, Shadi Said Al-Saaideh, was later apprehended and was sentenced to 8 life sentences for his participation in the Ein Arik attack and other attacks.


» View analysis citing this item