Fatah collage shows bombers who targeted civilians with caption: "The Palestinian women, sowing hope in the land of peace"
Image published on Falestinona, the website of Fatah's Information and Culture Commission in Lebanon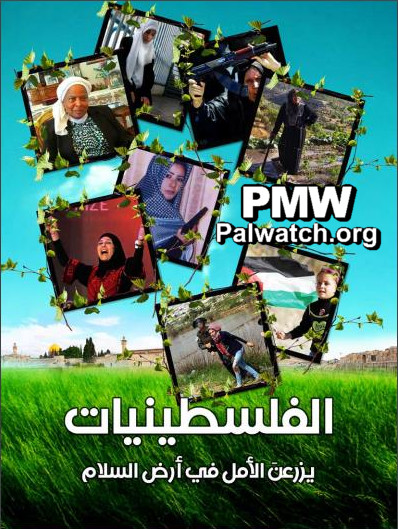 In the center of the image appears a picture of Ayyat Al-Akhras, a Palestinian suicide bomber who murdered 2. In the upper left corner is a picture of Fatima Barnawi, a terrorist who placed a bomb in a movie theater. Additional pictures include those showing a Palestinian woman holding an AK-47 assault rifle, and another of a female rioter being detained by an Israeli soldier.
Text on image:
"The Palestinian women, sowing hope in the land of peace"
The article appears in the April 2017 edition of the magazine of Fatah's Information and Culture Commission in Lebanon,
Al-Quds
, and was posted on the commission's website Falestinona on April 5, 2017.

Ayyat Al-Akhras - The youngest female Palestinian suicide bomber (aged 17). A member of Fatah, Al-Akhras blew herself up near a Jerusalem supermarket on March 29, 2002, murdering 2 and wounding 28.

Fatima Barnawi - Palestinian female terrorist who placed a bomb in a movie theater in Jerusalem in 1967 in an attempt to blow it up. The bomb failed to explode. She was sentenced to life imprisonment but was released in 1977 after serving 10 years. In 2015, PA Chairman Mahmoud Abbas honored Barnawi with the Military Star of Honor.