Fatah posts image of masked armed man on Facebook, calls to end Hamas "coup"
Image and text posted on the official Fatah Facebook page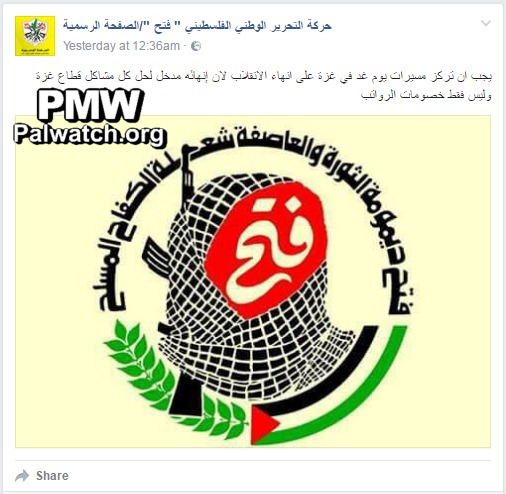 The image shows an old Fatah logo featuring the head of a man masked in a keffiyeh (Arab headdress) and armed with an assault rifle. The word "Fatah" appears over his face on a red background. Underneath, the Palestinian flag and an olive branch are seen.
Text on image: "Fatah – The eternal revolution and Storm (i.e., "Al-Asifa," Fatah military unit) and the flame of the armed struggle"
Posted text: "The processions that will be held tomorrow [April 7, 2017] in Gaza need to focus on ending the [Hamas] coup (see note below –Ed.), because its end is the prelude to solving all of the Gaza Strip's problems, and not just the reduction of the [public employees'] salaries"
2007 Hamas takeover of the Gaza Strip - Mahmoud Abbas of Fatah won the 2005 Palestinian Authority Presidential election. However, Hamas won the 2006 parliamentary elections in both the Gaza Strip and West Bank, with a majority of 74 out of 132 seats, to Fatah's 45 seats. Fatah's rule of the PA Presidency and Hamas' rule of the PA government led to friction and eventually armed conflict between Hamas and Fatah. Hamas defeated Fatah militarily in the Gaza Strip in 2007, and since then Hamas rules in Gaza while the PA continues to rule the West Bank under Fatah.