"Promised Land" = Land where Jews will be exterminated
Palestinian woman:
"Promised Land" = Land that "was promised to gather them [the Jews]
in order to exterminate them by a divine decree"


When Fatah-run Awdah TV asked Palestinians about their views regarding US President Donald Trump's "rise to power", one woman explained that "Jews" mistakenly understand the term "the Promised Land" as "a promise to them," however, the real promise is that Allah will "gather" and "exterminate" them:
i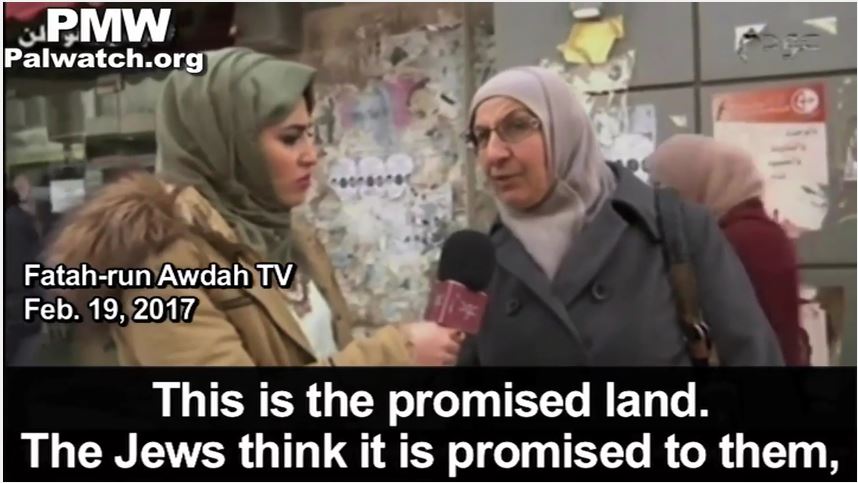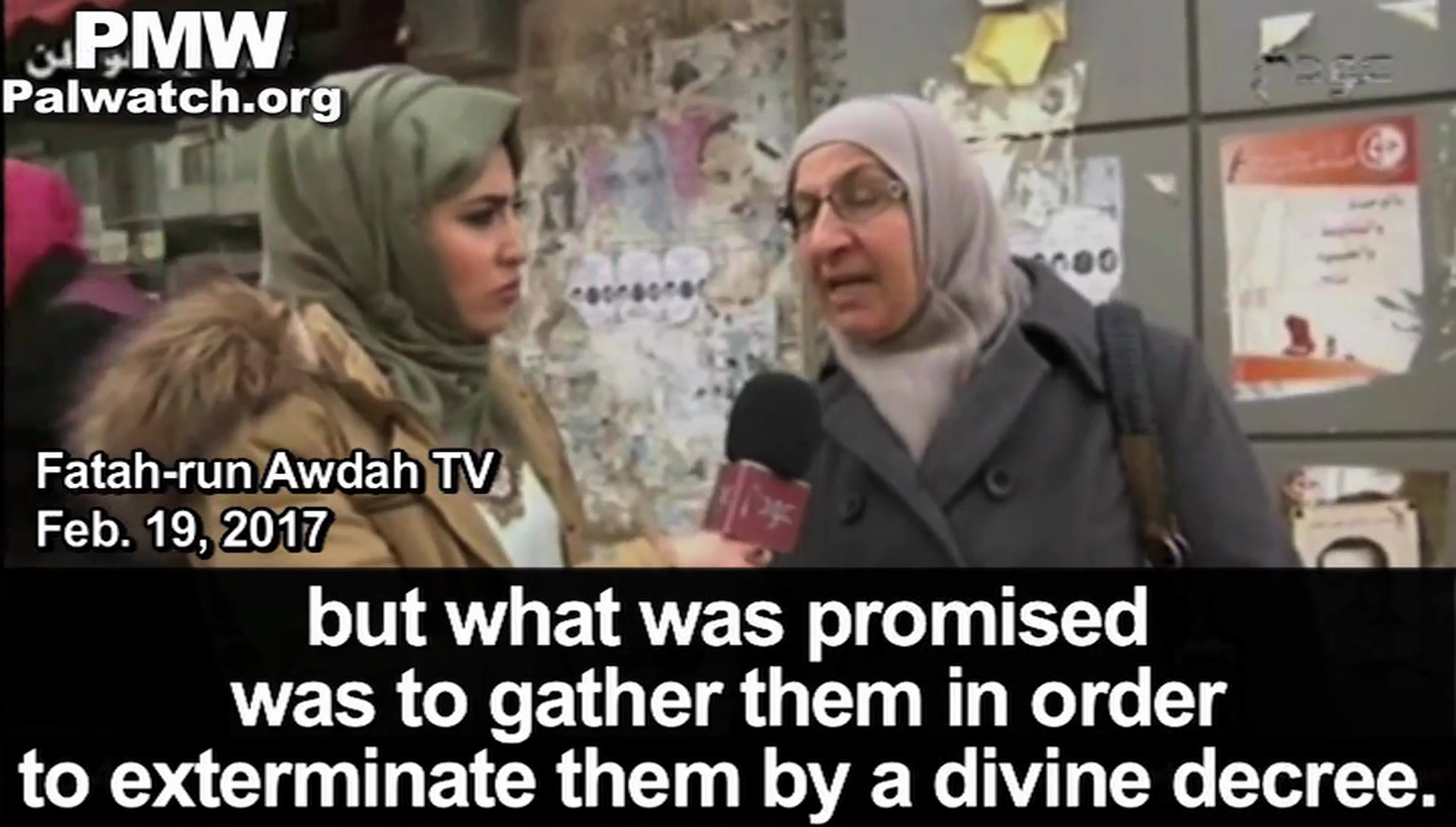 '
Fatah-run Awdah TV host: "Dear viewers, our question today is: Are you optimistic about the rise to power of American President Trump?"
Palestinian woman: "We always put our hopes in Allah. This is the promised land. The Jews think it is promised to them, but what was promised was to gather them in order to exterminate them by a divine decree."
[Fatah-run Awdah TV, Pulse of the Homeland, Feb. 19, 2017]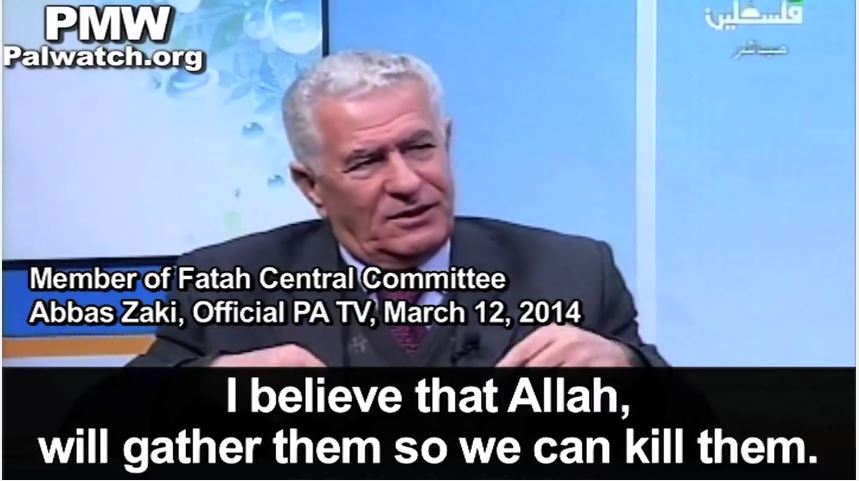 "I believe that Allah will gather them so we can kill them. I am informing the murderer of his death."
[Official PA TV, March 12, 2014]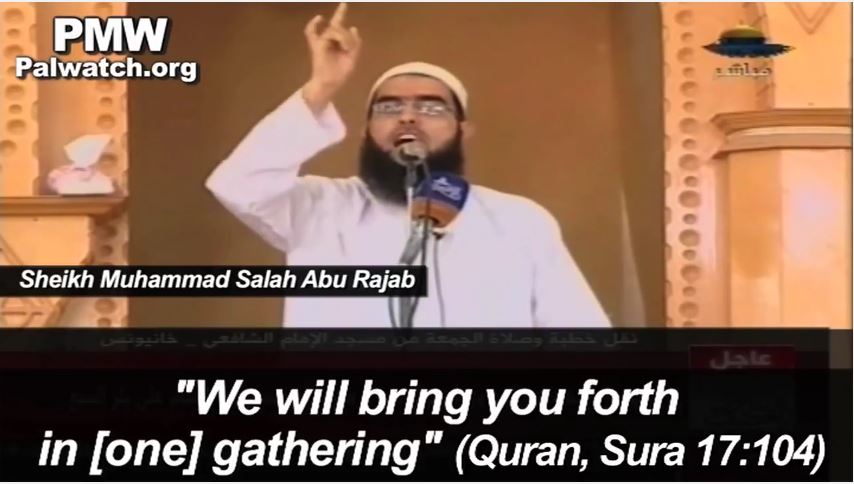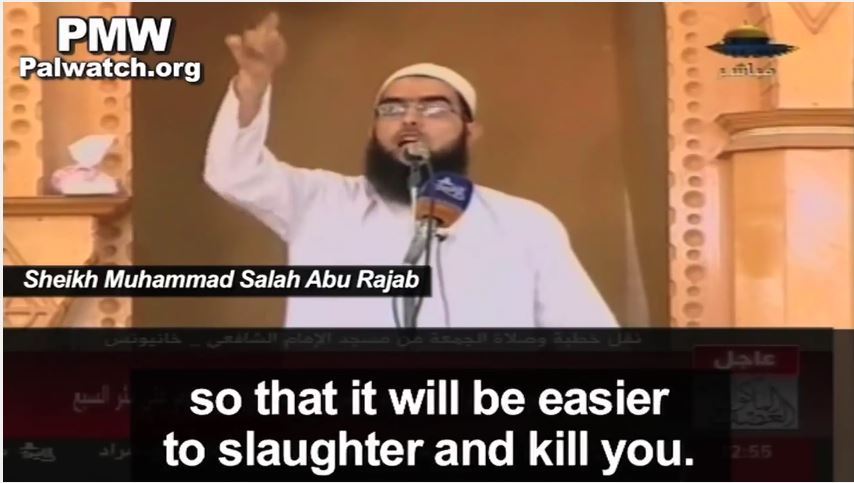 "Here are the Zionists, who have gathered from all around. They occupy and usurp Jerusalem and its environs, and so the promise of Allah is realized: 'We will bring you forth in [one] gathering' (Quran, Sura 17:104) so that it will be easier to slaughter and kill you. O Zionists, you know this for certain."
[Al-Aqsa TV (Hamas), Aug. 22, 2014]
Hezbollah head, Hassan Nasrallah, has reportedly expressed a similar expectation: ''If Jews all gather in Israel, it will save us the trouble of going after them worldwide.' [The Daily Star (Lebanon), Oct. 23, 2002]
All these Palestinian leaders and the Hezbollah leader are attempting to reconcile seemingly conflicting Islamic traditions. One the one hand the Quran's statement that the "Children of Israel," i.e, the Jews, will return to the Land of Israel in the "hereafter," implies that the Quran recognizes Israel's right to exist and even anticipated Israel's rebirth:
"And We said after Pharaoh to the Children of Israel, 'Dwell in the land, and when there comes the promise of the Hereafter, We will bring you forth in [one] gathering.'" [Sura 17:104 Translation Sahih International]
However, this must be reconciled with the Hadith, Islamic tradition attributed to Muhammad, interpreted by some PA religious leaders, that all Jews are destined to be exterminated by Muslims:
PA Mufti: "The Hour [of Resurrection] will not come until you fight the Jews. The Jew will hide behind stones or trees. Then the stones or trees will call: 'Oh Muslim, servant of Allah, there is a Jew behind me,
come and kill him
.'"
[Official PA TV, Jan. 9, 2012]
PA TV Preacher: "Allah, punish Your enemies, the enemies of religion, count their numbers and kill them to the last one, and bring them a black day. Allah,
punish the wicked Jews
, and those among the atheists who help them."
[Official PA TV, April 22, 2016]
The solution for these Palestinian and other Islamic leaders is to say that both traditions in Islam are correct. On one hand, the Jews are destined to return to Israel. On the other, it is not for their benefit but it is to make it easier for Muslims to exterminate the Jews. The Palestinian woman who expressed this opinion of Fatah TV, is repeating the message taught by Palestinian religious leaders.