Abbas: "I do not accept the Jewish State"
Itamar Marcus and Barbara Crook
|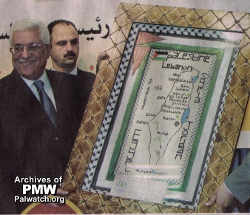 Palestinian Authority President and Fatah Chairman Mahmoud Abbas stated unequivocally Monday that he does not accept the Jewish state.
"I say this clearly: I do not accept the Jewish State, call it what you will," he said at a preliminary conference of the Palestinian Youth Parliament in Ramallah. [PA TV (Fatah), April 27, 2009]
At the end of the conference, Abbas was presented with a large framed map of "Palestine," covering the entire area of Israel.
The photo of the map being held aloft by a smiling Abbas was featured in a prominent front-page position in both PA daily newspapers. Note that the word "Palestine" appears on the map in English.